You're ready to start marketing your coaching services, but how do you get coaching clients? What strategies are working best right now?
We're breaking down our proven tactics to guide your journey with real case studies of other coaches who have navigated the challenges of client acquisition and achieved remarkable outcomes.
With an emphasis on actionable strategies derived from actual experiences, this guide equips you with the knowledge and inspiration to carve your own path to coaching success. 
Whether you're a seasoned coach seeking fresh perspectives or just stepping into the coaching arena, join us as we reveal the captivating stories of coaches who have mastered the art of client acquisition, and learn how to apply their wins to your own journey.
Why Traditional Coaching Marketing Won't Work
Traditional paid advertising strategies for high-ticket coaches don't work very well and here's why.
In order to help create sustainable business models for our clients, we are looking at their businesses from a holistic perspective.
We ask important questions such as:
How is the quality of leads impacting our customer's business?

Are they getting enough qualified booked calls on their calendars?

When a customer signs up, are they actually paying the full amount or are they being added to a collection list?

What's the average order value (AOV) and lifetime value (LTV) of the customers we're bringing in?

Are their clients getting great success in their programs and enrolling into their higher level $25-50k programs?
The main metric we leverage to drive results for our clients is measuring qualified prospects.
We have developed many systems in order to tie back all of this information to the individual ads we're running on each platform.
In this article, we'll go over some of the top paid advertising strategies we've leveraged for coaches in the past couple of years.
The Best Way to Get Coaching Clients: a High-Ticket Coaching Funnel
In order to capitalize on paid advertising traffic, you need to have a sales funnel dialed in.
A high-ticket coaching funnel is the best method for obtaining coaching clients due to its unique ability to attract and engage serious prospects, optimize conversion rates, and maximize the overall value of each client.
Unlike traditional low-ticket funnels, a high-ticket approach focuses on quality over quantity, targeting individuals genuinely invested in personal growth and willing to invest significantly in their development.
This strategy inherently filters out casual or uncommitted leads, ensuring that the clients acquired are truly aligned with the coach's expertise and services.
Incorporating high-quality content, compelling storytelling, and a tailored client journey, a high-ticket coaching funnel not only showcases the coach's expertise but also addresses the unique pain points and aspirations of the target audience.
This approach nurtures trust and positions the coach as a sought-after authority in their field.
If you don't have a sales funnel, then you're in luck because we just rolled out our new offer where, for a limited time, we are offering to help you build your sales funnel.
This is the Lamborghini of sales funnels designed to spit out qualified leads for your business on autopilot.
Click here to book a call with our team and we can talk about the specifics and see if you're positioned well with your offer to get this up and running.
4 Marketing Strategies for Coaches From Our Own Success Stories
Case Study #1
Douglas James – Facebook Ads Journey
Strategy #1: Optimize Based On Lead Quality Instead Of Vanity Metrics Like Cheap Leads And Calls
MQL stands for 'Marketing Qualified Lead' – i.e., leads who are more likely to convert because they've already shown some interest in your brand or product.
By optimizing based on MQLs instead of Cost Per Call, you ensure that every lead who is driven to your site through an ad has a higher chance of making a purchase.
This approach allows you to track the performance of your campaigns more effectively and accurately.
It also lets you see exactly which ads are bringing your salespeople the best quality leads.
So when you start putting more budget towards these ads you can sleep better at night knowing that your salespeople are getting paid and showing up to each call with confidence and enthusiasm that they can close this next lead.
The way that we set this up is by scoring each and every lead based on how they answer the application questions in our client's funnel.
This gives us the ability to:
(1) Send our leads to our MQL dashboard to house and organize all the lead information
(2) Only send qualified lead information back to the pixel to optimize our pixel data cleanly and without muddying it up with non-qualified lead info
Learn more about how we used our lead qualification process to take Douglas' Facebook Ads from -$55k to over $750k in net profit by clicking here.
Case Study #2
Russ Ruffino – YouTube Ads Journey
Strategy #2: Use The Million Dollar Ad Formula
We changed the entire picture of Russ Ruffino's YouTube advertising by following a formula that works for YouTube ads. 
Our YouTube advertising team rewrote Russ's whole advertising strategy to give his business ads a stronger foothold in YouTube's ecosystem.
We worked with Russ Ruffino to create an introductory video that cuts right to the point by presenting Russ as the quintessential coach: friendly, energetic, and down to earth.
In his ad, Russ gives a brief and powerful message: "This video has the power to transform your life."
He zeroes in on his target audience and addresses professionals who change their clients' lives, such as authors, speakers, and coaches.
Russ appeals to busy professionals by packing his client attraction strategy into one 45-minute presentation. 
He stresses that he doesn't spend all day online creating content and interacting on social media.
This statement piques the interest of businesspeople with tight schedules.
They want to know how this coach does what he does and how his methods can apply to their business.
Case Study #3
Douglas James – TikTok Ads Journey
Strategy #3: Make Your TikTok Ads Less TikTok Ad-ish
The biggest challenge to overcome with TikTok is their auto-fatiguing feature where they literally tank your ads performance after 2-3 weeks.
What we have found to work the best and for the longest durations of time follows this exact principle: "an ad that doesn't seem like an ad."
On TikTok, that means making our ads look like they're just another TikTok video using native formatting, which increases not only the longevity but the performance of the ads overall.
Here are the results of our invincible ads:
The Self-Interview ad: How Much Money Can Someone Make Selling Leads To Online Businesses.
Results:
Cost: $20,541.22
Revenue: $31,917.00
Profit: $11,375.78
ROAS: 1.55
The Contrarian ad: 3 Businesses Not To Start In 2022
Results:
Cost: $11,190.06
Revenue: $35,264.00
Profit: $24,073.94
ROAS: 3.15
Another Contrarian ad: The Best Business To Start In 2022
Case Study #4
Dean Holland – Facebook Ads Journey
Strategy #4: Trend Infiltration And Disruptive Marketing 
It's tough to stand out when you're competing with millions of other advertisers for the same customers. 
Those customers likely see dozens of ads, or maybe more, every single day. 
If you want them to click, you've got to stand out and do something that seriously grabs their attention.
And you need to do it fast, too. 
The internet comes with nearly endless distractions, so if you don't catch customers' attention in a few seconds or less, those customers have probably already moved on.
Here are the strategies we used to help Internet Profit's ads stand out.
Disruption Strategy: Four Misconceptions Ad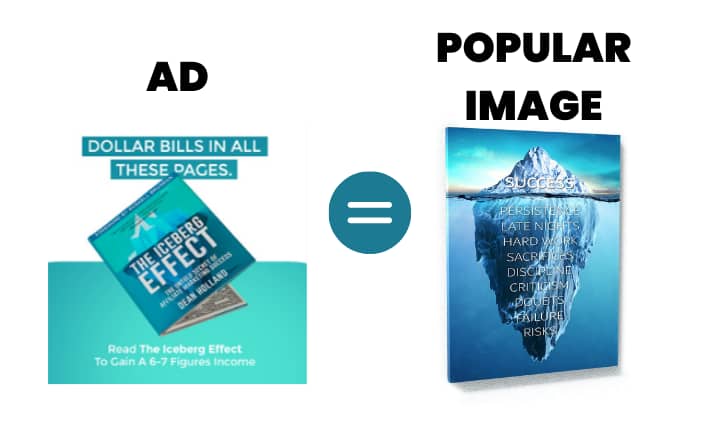 This ad features a popular image of an iceberg that's well-known in affiliate marketing circles. 
People respond to what they're familiar with, and we proved that by using this iceberg image for our ad. 
It works well even if the audience can't recall where they've seen the image before. 
The image intrigues them and captures their attention, which drives them to click.
Trend Infiltration: King of Affiliate Marketing
We based this ad on a popular TV show with an engaged fan base that loves to make and share funny memes. Our King of Affiliate Marketing ad parodied a main character from the show, which instantly drew the attention of fans.
Trend Infiltration: Wizard of Affiliate Marketing
How to Get Coaching Clients & Build Your Strategy From Scratch
Step #1: Set Your Baseline Metrics Using Hyros
Install Hyros into your ad platforms and funnels so you can collect at least 2 weeks' worth of data.
Having at the very least 2 weeks' worth of accurate data will allow you to see where you're at so you can set a baseline for your current performance. (Learn more about Hyros here)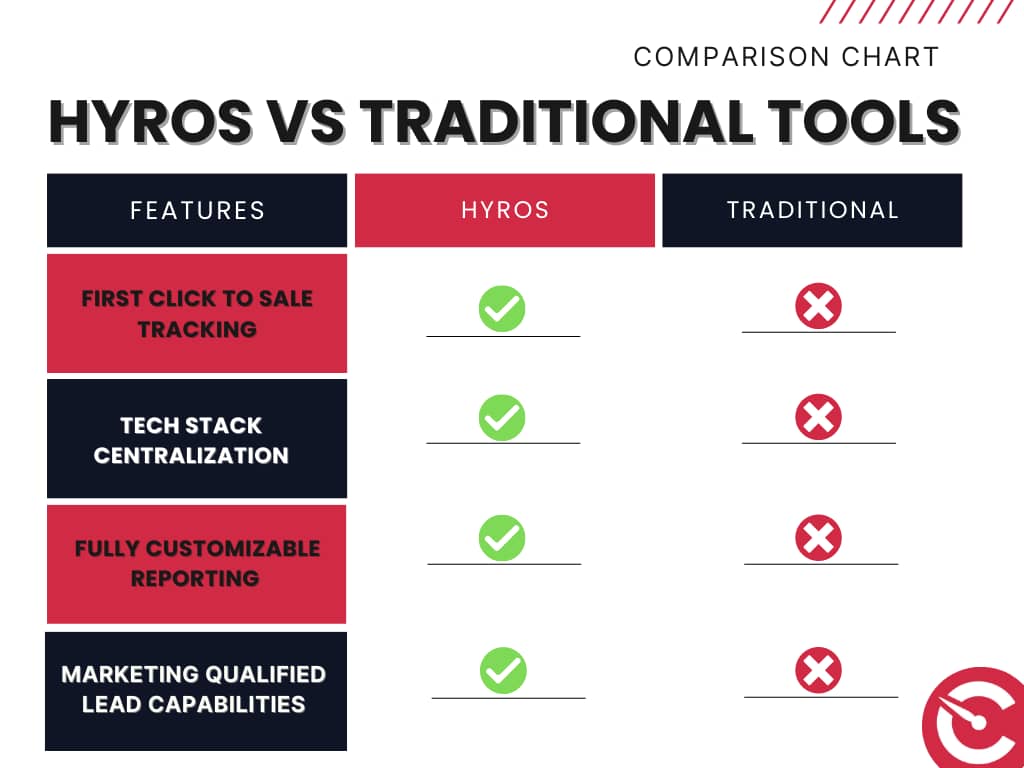 Step #2: Make Your Projections With GERU
Set your baseline metrics for the following key performance indicators:
Cost Per Click (CPC)

Cost Per Lead (CPL)

Cost Per Booked Call (CPBC)

Cost Per Acquisition (CPA)

Average Order Value (AOV)

Earning Per Booked Call (EPBC)

Cash Collected Revenue

Total Contracted Revenue
Once you have these mapped out, you can build a projection model of your funnel in GERU.
Your GERU simulation is going to look like this:
You'll be working with your conversion rates at each point in your funnel to come up with your baseline model.
When you build it out right, it will accurately reflect all of your numbers.
The reason we built out a baseline model is so that we can build out more scenarios and see how an improvement in the conversion rates will impact our profitability.
Creating new tabs will allow us to organize each scenario into our project:
Now let's say that we think we can increase the opt-in rate up to 30% and want to see how that would impact our revenue numbers. It's very simple to go in and change the percentage… 
…and then we can instantaneously see how much more profitable we'd be with a slight change in our funnel.
Step #3: Create Exceptional Ads Which Will Perform At Your Benchmarks
One of the most important metrics you need to hit with your ads is the Cost per click (CPC) because this is how much it costs you to get someone into your funnel.
A great way to reduce your CPCs is to deploy high-production creatives which appear more like cinematic videos versus a talking head.
Clients On Demand had a very niche-specific audience so their Cost per click (CPC) was above average but when we rolled out a cinematic ad that was produced in a big warehouse with a fake private jet inside, the results were pretty crazy.
His average Cost per click (CPC) was around $9-10 and compared to the ad listed first down below, the warehouse ad (listed second) was 53.4% lower at $4.49.

Here's what we mean by cinematic production:
Step #4: Put Them Into A Creative Testing Campaign
Once you've produced 3-5 really solid ads for your offer, then put them into a creative testing campaign.
The way we do this is by first identifying which audiences in the account are working the best.
This can be audiences getting the best Cost per click (CPC), Cost per lead (CPL), or Cost per booked call (CPBC) if that's all you have to work with but ideally, it's based upon the audiences providing the best return on investment (ROI).
After you've identified your best-performing audiences, pair them up with your new creatives and put some budget out to figure out which of your new creatives are going to land.
Step #5: Identify Your Winning Creatives
With Hyros, it's going to become very clear which of your creatives are winners which will produce profits for your business.
As for the losers, when should you turn them off?
Our general rule for cutting losing ads is turning them off once they go 2-3X out of your target key performance indicator (KPI).
For example, if you need to hit a $5.00 Cost per click and your ad is at $10-15 CPC, then we would turn this off.
Step #6: Put Winning Creatives Into Audience Testing Campaign
Now you have your winning creatives so let's expand and add some more winning audiences to our portfolio.
Pair up your best-performing creatives with new audiences you haven't tested yet.
Similarly to audiences, this will be the creatives getting the best return on investment (ROI).
After you've identified your best-performing creatives, pair them up with your new audiences and put some budget out to figure out which of your new audiences are going to land.
Step #7: Identify Your Winning Audiences
We follow the same general rule for when you should turn off a losing audience (2-3X out of KPI).
However, with Hyros on your side, it's going to be easy to identify the new audiences which will provide you with revenues to come.
Step #8: Put Pairs Of Winning Creatives + Audiences Into Scale Campaign
Now that you have gone through the trials and tribulations of identifying 5-10 winning creatives and 5-10 winning audiences, let's identify your BEST combinations.
Once you find the creative and audience pairs which are providing the highest return on investment (ROI), put them all into a scale campaign.
This is going to be a campaign you'll run at $200 all the way up to $1,000 or more per day.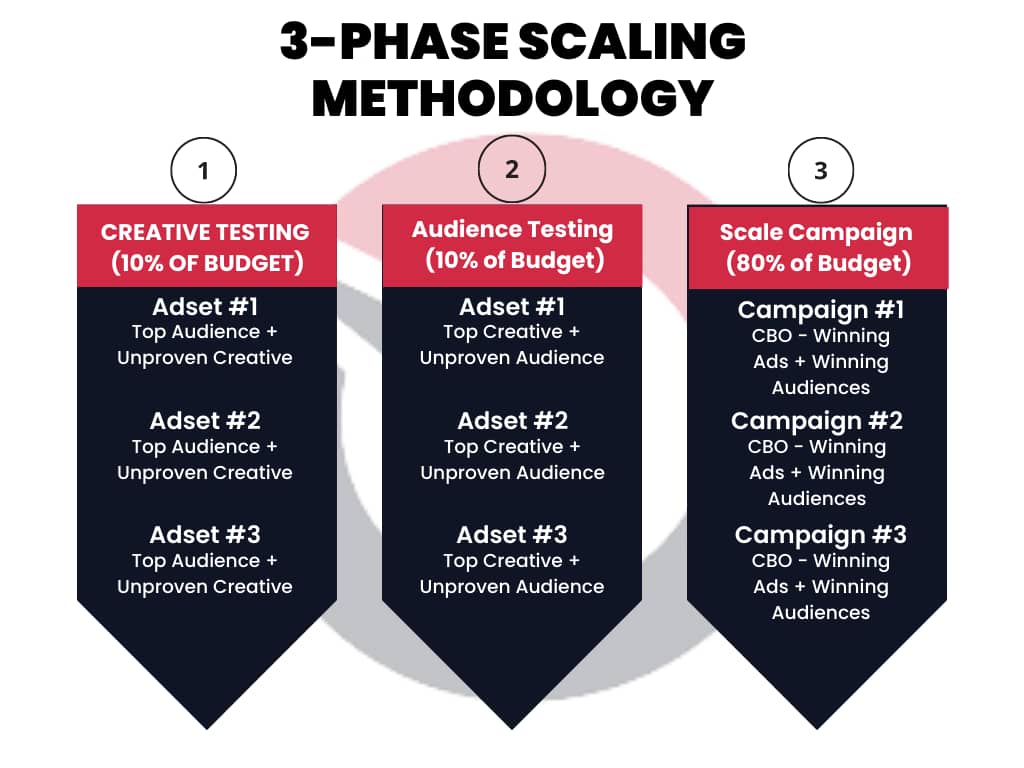 Market Your Coaching Business With Client Accelerators
Now you can see that going after the right clients is so important to get coaching clients. Try the strategies we've listed above to find which works best for you.
If you want to accelerate your coaching marketing, we can do this for you to help you get incredible results like our case study clients we showed you in this article. 
Click here to book a Strategy Session with our team of experts to deep dive into your marketing strategy, let us scale your ads, and get you coaching clients. 
We'll provide you with clear action steps you can take to make your marketing more profitable! Fill out the form here to book your Strategy Session with our Team.