Hyperscale your business by partnering with the #1 YouTube ads agency in the world.
Done-For-You YouTube ads that perform at scale.
Book a free call now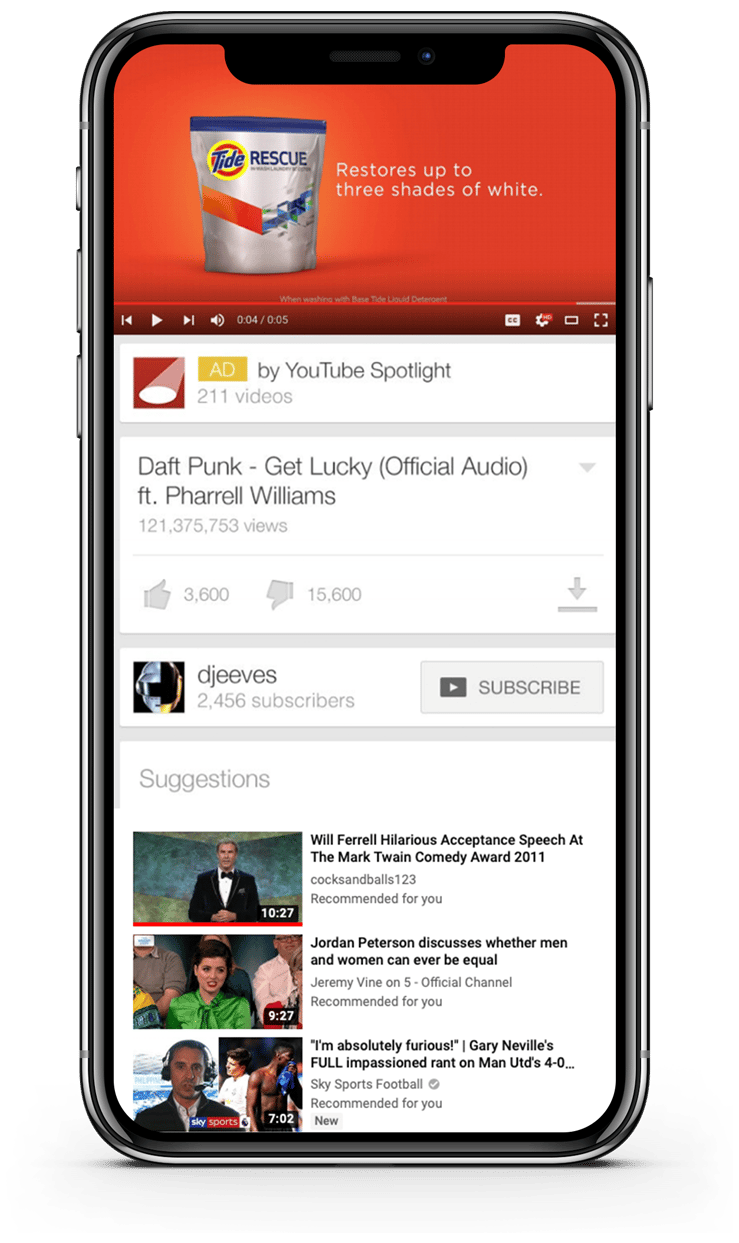 YouTube ads are the strongest form of social proof.
More and more companies are turning to YouTube ads for their marketing needs, and the reasons for that are clear. Aside from being a modern, accessible form of marketing that allows you to reach potential customers wherever they are, you have the option to pay either when someone clicks on your video or watches it. As a new YouTube ads agency with more than 50 clients and $25 million in ad spend, Client Accelerators is uniquely positioned to help.
That's why YouTube is the most valuable ad campaign format that allows a hard sell that comparable to infomercials running on cable. Yet, running ads on YouTube is just a product of Google Ads, the online advertising solution that helps businesses scale their outreach and promote their products or services on Google Search, Google Display, and of course, Youtube.
You have
a number of ways to make money on YouTube
by either:
Buying ads—display, overlay, or video ads—on other peoples' videos

Creating your own video content

Showcasing and selling products through YouTube (the Merch Shelf)

Building memberships on your YouTube channel

Getting a percentage of YouTube premium subscriber fees
Here, we'll talk mostly about the first option, buying and using YouTube ads.
Along with a broad reach, you can segment according to demographics such as user interests, spoken languages, user location, gender, and much more. Even users who don't watch your whole ad will still have brand awareness and be more likely to convert later, especially if they're served follow-up ads at a later date.
Why Should I Invest in YouTube Ads?
It's no secret that YouTube is a giant, but just how big is it? For starters, it gets close to 2 billion unique visitors each month, with close to 15 billion visits in total. In fact, it gets more unique visitors than Instagram, Facebook, Amazon, and Wikipedia. While YouTube as a service is globally popular, the market in the United States is especially ripe. The majority of American YouTube users watch videos on the platform every day, and a staggering 92% access YouTube every week.
Influencer marketing presents a unique opportunity for brands looking to reach their target audience as well. Not only are companies making and sharing ads that play before and during videos on the platform, but they're also sponsoring user-created videos where influencers can showcase and advertise their product, increasing social proof and offering things like influencer-specific coupon codes that viewers can take advantage of for savings.
YouTube visitors, on average, currently spend around 20 minutes on YouTube daily, and experts expect that number to rise going into the future. Believe it or not, YouTube is the second most popular site on the entire internet, ranking just below the behemoth that is Google. And with Google owning YouTube, the opportunity for cross-pollination has never been greater.
As you might have expected, YouTube remains a crucial platform for those trying to reach younger demographics. In fact, YouTube reaches more 18-49-year-olds than every cable network put together. Some of this got driven by a rise in cord-cutting, but that doesn't account for the phenomenon as a whole. The simple reality is that younger users continue to flock to the platform in droves, regardless of whether or not they also have cable TV.
Even if you're not looking to tap exclusively into a younger demographic, YouTube has a broad enough reach to accommodate your needs. Out of all the internet users worldwide, a mind-blowing 81% have used YouTube before. That even eclipses the number of Facebook users worldwide.
Still not convinced just yet? Here are some ways that a YouTube ads agency can help you increase your return on investment and get you results.
ROI and Results
It's no secret that video content continues to see an explosion in popularity and preference. Gone are the days when a company or brand could rely on print, radio, and TV. The world is changing, and those brands that demonstrate an ability to change with it are the ones who will succeed. More and more content gets uploaded to YouTube every second, and when it comes to streaming hours, YouTube even dwarfs Netflix.
When it comes to marketing strategies today, you can't get much more cutting edge than leveraging the popularity of YouTube video streaming. Despite being 15 years old, YouTube has somehow become even more relevant and popular over the years, with its total unique visitor count and hours of content streamed steadily rising.
You might be wondering how to get in on this advertising avenue if you've never made video content before and how a YouTube ads agency could help. Not only can an agency get you in front of your customers and meet them where they are, but they can give you the opportunity to get in front of users that you might never have had access to before by traditional means.
All of that may sound great, but at the end of the day, conversion is king. You might be wondering if all those viewers matter in terms of conversion. Not only can YouTube ads increase your overall conversion rate, but a whopping 90% of professionals in the marketing industry responded to a survey and said they're happy with the return on investment that YouTube ads provide. With the strong potential for more viewers, more leads, and increased ROI, making the leap to video advertising is the logical next step for most brands out there.
Mobile Support
Another great aspect of tapping into video content ads lies in how accessible YouTube has become. While the desktop version of YouTube is no slouch, users who access YouTube's mobile app tend to visit double the number of pages that desktop users do. When you consider how many users might be coming to your site from their mobile devices, it becomes clear just how much it pays to ensure that your lead magnet site is mobile-friendly.
Music streaming remains especially popular, with users either letting a playlist play in the background or actively curating songs as they go. This presents many opportunities for brands to incorporate jingles and music into their ads, and users who pair a device to a mobile speaker and let it play are far less likely to skip ads when they do come up.
YouTube Ads: The Next Step in Marketing
Maybe you've already taken a step toward digital fluency in your ads. You might already be running Google ads or sharing content on social networks like Facebook or Instagram, but you don't know where to get started with video content. That's where our ad agency comes in.
We start by analyzing your current approach, drilling into your ad spend, demographics, target audience, and identifying a feasible budget for you. Once we've figured that out, we'll make lead profiles that will get your ads played in front of the right people. There's no use in blasting your ad to a broad audience if most viewers won't end up converting. Our approach is targeted and precise.
From there, we'll work with you to develop and create content that matches your brand's voice and style while maximizing lead conversion. Our team excels at thinking outside of the box and crafting content that will engage and inspire.
Our industry connections give you immediate access to influencers and creators who can propagate your brand. Whatever your industry or niche might be, we can find a way to add social proof to your message. Beyond working with familiar faces, we can target videos that speak to a user's interests and help them solve a need or pain point in their lives.
One of the most important things we can offer you is variety. YouTube has the capability to show anything from overlay ads to skippable and non-skippable, bumpers, sponsored cards, and more. So the best approach is one that puts your eggs in many baskets and maximizes your chances of success.
The next important step is to stay consistent. Video marketing is all about staying on top of current trends and keeping an eye on what's to come. To facilitate that kind of steady growth, we regularly monitor your campaigns and adjust them as needed. We have the ability to focus on targets and goals and then adjust our strategy as needed, all with an eye on maximizing your return on investment and giving you the most exposure for your dollar.
How Working With Us at Client Accelerators Can Help
With the explosion in the popularity of video content comes an excellent opportunity for companies and brands willing to dive into YouTube ads. It's never been more critical to find an advertising agency that can reach your potential clients where they are. Gone are the days when analog avenues like print and TV were enough. Even a social media-centered approach won't be enough to generate the kind of growth you'll be able to find by leveraging YouTube.
Client Accelerators is a YouTube ads agency with a finger on the pulse of what's to come in the world of digital marketing. Our secret sauce is our data-driven approach and focus on client satisfaction and growth. We can fully scale our approach to your particular needs, from the amount of ad spend to demographic targeting, media buying, and much more. Since there's no one size fits all solution for every company's digital marketing needs, we tailor every campaign to the unique needs of every client we serve.
If you're ready to see your online reach explode, we're here to help. Book your call with us and get started today.