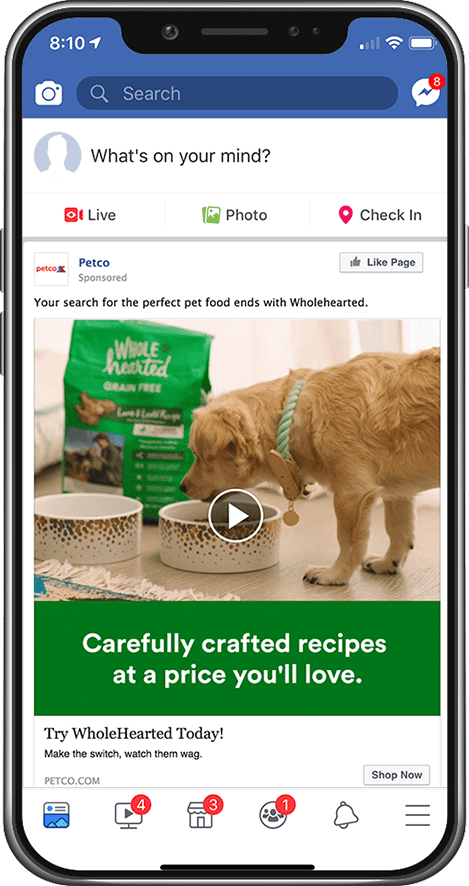 Facebook has the most rigorous and effective targeting tools.
When it comes to the world of social media, most companies and brands know they need to have some sort of Facebook presence. Like it or not, Facebook is a force to be reckoned with, and with 3.5 billion users going on Facebook every month (and climbing), it continues to provide a lucrative platform for those who know how to leverage it.
Maybe you think you can go it alone and not work with a Facebook ads agency, but then again, perhaps you're afraid that your reach isn't what it could be, that nothing you post seems to grow your base significantly. That's where an agency comes in. Beyond keeping up with regular posts, a digital agency can run affordable Facebook ads that can quickly get your impressions into the thousands—and beyond.
You Need a Facebook Ads Agency & Here's Why:
If you've never before run any type of Facebook ad, getting started might seem a little daunting, but it doesn't have to be. The sad reality is that organic reach by itself won't get you very far on Facebook or just about anywhere else online. It's not enough to make regular posts and hope for one to go viral eventually. Brands and companies that leverage Facebook ads will outperform those that do not every single time.
At Client Accelerators, we know a thing or two about the power of social media. We were born online, and in the few years that we've been around, we've been able to build a client list of 50 companies and brands and scale up to $25 million in annual ad spend. Simply put, you can't significantly grow on Facebook without working with a Facebook ads agency.
We laser focus on Facebook ads because they work. Not only can you expand your online reach quickly with them, but the ability to scale your spending means that you can get a serious return on investment given the right approach. Facebook ads allow you to target a variety of demographics and needs so that you can build your campaigns around age and gender, interests, affiliations, user location, and so much more.
Build a Campaign Your Way
Not only can you target campaigns based on a large number of demographic factors, but you can also aim for specific achievable goals in your campaign too. Maybe you're looking to boost sales, or perhaps you'd like to build a list of qualified leads? No problem. Maybe you want better engagement on your posts or just need more brand recognition? That's easy to pull off with a Facebook ads campaign.
Put simply, Facebook doesn't have an equal when it comes to audience segmentation. With the wealth of user data that Facebook stores and analyzes daily, targeting key demographics has never been so easy or precise for even the smallest companies. Not only can you target precisely the type of lead you'd like, but you can even build a customer profile to increase your chances of campaign success.
Make Your Copy Shine
Once you've committed to Facebook ads, the next vital step is to ensure that users will actually like what you have to say and engage with your copy. With as much competition that exists for users' attention, it's not enough to whip up something in-house and run an ad. You need copy that shines.
We craft exceptional content that sticks close to your brand and gives your ideal audience what they want. Whether you want to address and solve a pain point for your leads or get them reading (and sharing) your industry expertise, we can help. We don't take chances with your content, either. We conduct A/B testing to see what works best. That way, we can always pivot to what people want and leave behind whatever isn't working.
When it comes to Facebook ads, it's not enough to set it and forget it. You need to constantly supervise your campaigns, understand where and why they're working and identify opportunities for improvement. That's exactly what we do every day here at Client Accelerators.
Once we've found something that works well for you and your brand, we can also tap into retargeting. This handy tool lets you revisit leads who already engaged with your ads in the past but didn't buy. Experts agree that ad retargeting is highly effective when it comes to lead conversion.
The best part about all of this? Facebook ads are remarkably affordable, and you can completely scale all of your campaigns to your unique specifications and needs. You're always in the driver's seat and never breaking the bank.
How to Succeed With Facebook Ads
We've talked about the audience targeting potential that you have with Facebook ads, the segmentation capabilities, and ways that you can minimize your ad spend while maximizing your return on investment. But just because Facebook is the king of the social media scene, that doesn't mean that your campaign will automatically succeed.
To get there, you need the help of an experienced Facebook ads agency that has the staff and tools necessary to dig into the data, see what's working and what isn't, and pivot according to the ever-changing social landscape. To that effect, we will be able to give you daily reports on all of your campaigns and change on the fly based on your needs and what your audience responds to.
Not only can we give you updated numbers on total impressions and return on your ad spend, but we can also drill into how much you're paying per click, what your CTR is, frequency of click, and your overall reach.
The best advertising campaign means nothing if you're not reaching your target audience or delivering content that they'll actually engage with. What worked for a campaign yesterday won't necessarily work today, and you don't have enough time in the day to both run your business and give yourself the equivalent of a PhD in social media advertising.
We take a lot of the stress out of the process by running your campaigns, adjusting and prioritizing ad spend, and creating dynamic, shareable content. That way, you can focus on running your business, and we can focus on getting the word out.
Get Results With a Facebook Ads Agency
The benefits of working with a digital marketing agency instead of handling everything in-house are almost too numerous to count, but we'll take a look at a few anyway. For starters, an advertising agency can significantly save you on staffing and training costs. Instead of hiring in-house and having to train a new hire from scratch, you can turn to a company that specializes in social media advertising.
Agencies provide you with some much-needed stability. While it can be tough to rely on a single professional in your office to handle all of your advertising needs, you eliminate that concern by working with an entire agency filled with marketing professionals. Even if one person in the agency leaves or is out of the office, you'll have the rest of the team to turn to, meaning that you'll never get left hanging.
One of the starkest differences between working with a single advertising professional and an entire agency has to do with quality. A single creative can turn out quite a bit of content, but they'll never be able to match the output of a large team. If you want both quality and quantity, you need to turn to a Facebook ads agency.
Stay Ahead of the Curve
Perhaps the most important reason to go with a digital ad agency is that you need to stay ahead of the curve if you want to succeed. A single marketer might have some good ideas now, but it could become difficult for them to pivot their approach when they run into trouble. A good agency will have staff that come from a variety of backgrounds and who have diverse skill sets. This will ensure that regardless of how the social landscape changes, you've always got someone in your corner who gets it.
Algorithms and laws change constantly, and features regularly get cycled in and out. Here at Client Accelerators, we've dedicated ourselves to keeping up with these changes so that you don't have to.
Client Accelerators Can Help
Are you ready to see your online reach explode? We can help with that. Book your call with us right now so we can get started.
If there's one thing we can say for sure, it's that Facebook is here to stay for the foreseeable future. Brands and companies that don't take advantage of Facebook ads run the risk of becoming irrelevant. It's never been more critical for you to find an advertising agency that can reach your leads right where they are and convert them into customers.
The days of print and TV dominating all advertising services are gone. In the same vein, it's no longer enough to share a few posts on Facebook every week and leave it at that.
At Client Accelerators, we are a Facebook ads agency that focuses on data, client satisfaction, and exponential growth. We'll tailor your campaign to your specific needs and goals and always be available to adjust campaigns, start new work, or even just bounce ideas off of.