Scale Up your business by partnering with the #1 TikTok ads agency in the world.
TikTok ads that perform at scale.
Book a free call now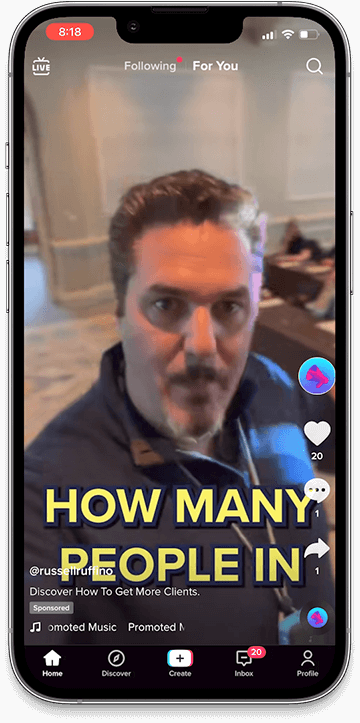 TikTok ads for a strong social presence.
TikTok has over a billion monthly active users and tops the charts for app downloads. With such a massive and engaged audience, a social media marketing campaign on TikTok can make your brand explode. As your TikTok ads agency, Client Accelerators will tap into the app's inner workings to create the perfect marketing strategy for your company.
We're an advertising agency that understands the importance of getting to know each brand and its audience. We use the data and insights we discover to make the best decisions to accelerate your company. We'll work with you to construct a solid marketing presence that your audience likes, creating a campaign that radiates trust and engages the consumers that matter to your business.
Get Your Ads in Front of Millions on TikTok
TikTok users spend a lot of time in the app. On average, users are on the platform 52 minutes a day. Kids aged 4 to 15 spend 90 minutes on TikTok daily

In the U.S., 80% of TikTok users are between 16 to 34

60% of U.S. TikTokers are female.

Trends on TikTok influence trends on other apps. For example, songs that go viral on TikTok become top trending songs on Spotify.

Engagement on TikTok is off the charts; 90% of TikTok users open the app every day.
Why Choose Client Accelerators for Your TikTok Ads Campaign?
At Client Accelerators, we're numbers-obsessed. You can rest assured that our team constantly has an eye on the data behind your marketing campaign. We assemble specialized spreadsheets to look for any red flags in the numbers and make adjustments accordingly, developing and optimizing our strategy for your campaign to keep everything on the up.
We'll pour everything we measure into a custom, easy-to-read dashboard where you can review the results of your campaign daily. We're happy to use our knowledge and expertise to help you with all your marketing needs, including email marketing and funnel building.
Our advertising agency has established itself as a powerhouse in social media marketing. The campaigns we manage consistently generate substantial growth for our clients. We achieve exceptional results for our clients because we stay on top of the industry by working with well-known professionals, consuming every piece of news, and continuing our education to remain relevant.
Why Choose Client Accelerators for Your TikTok Ads Campaign?
Data-Driven Marketing Strategies

Keyword Analysis

Daily Rank Monitoring

Bid Assessment

Ad Copy
Advertising on TikTok
TikTok offers in-depth audience targeting options for matching your content with the right users.

Ads on TikTok receive higher engagement than ads on any other platform.

The app's creative studio allows you to use TikTok's iconic effects, transitions, and filters that speak to the audiences on the app.

With millions of followers, TikTok influencer marketing provides massive outreach for your products.

Ads on TikTok allow you to link to your website or app download page to drive traffic to your products.
Grow Your Brand With a Data-Driven TikTok Ads Agency
We can take a multi-faceted approach to your TikTok ads campaign, offering ad copy, creatives, optimizations, strategic planning, and more. We'll work with you to get insight into your brand and its audience, finding every meaningful piece of data that could help us create a viral marketing campaign on TikTok.
If sales growth is what you're after, you've come to the right place. At Client Accelerators, we have a media buying strategy that we've optimized for profit. Even the most creative, high-quality ads are not enough to grow your sales, so we've got an experienced team of media buyers that focus on making the best decisions to give your brand an enormous boost.
We've gotten ad spending down to a science, maximizing click-through rates and ROIs while minimizing costs. Client Accelerators utilizes every advantage available to us through research on our clients and the platform as well as the tools available for advertising on social media platforms. The data tell us what to do, and we follow through with incredible results for our clients' growth.
What to Expect From a TikTok Ads Campaign
We'll analyze your brand and its audience to get the data we need to design a perfectly refined marketing campaign on the TikTok social platform. The app has niche audiences that see videos specific to their interests. We'll use your brand's vision and the app's features to reach the users that fit your ideal audience.

Our talented creative team will produce high-quality content that grips your audience, drives clicks, and fits the TikTok platform to take advantage of the app's remarkable level of engagement from its users.

Our media buyers will use the budget with maximum efficiency while making bids through TikTok's bidding system. The team's buying decisions will follow a path laid out by our data research, with the ultimate goal being to yield massive profit.

We will continue to analyze the results in real-time to spot anything that isn't working as intended. We'll assess the metrics and KPIs at the end of every week to amend our strategy for better results when needed. You'll have access to your campaign's day-to-day development through our custom dashboard.
Do You Still Have Questions? Read Our FAQs For More!
Client Accelerators Will Get You the Results You Want and More
Our advertising agency launched in 2018 and has grown massively every year since then. We are leading a new generation of profit-yielding marketing strategies and media buying, amazing our clients with the results of our ad campaigns on Facebook, YouTube, TikTok, and more. With our focus on funnel marketing, we can address your needs and concerns within our strategies before we start working with you.
TikTok is still a growing market, and we intend to get our clients onto the platform to take advantage of the app's vast audience and high-level engagement. Consumers go to the app every day open to trying the latest trend and looking for the best products that their favorite influencers are using.
If you're ready to take your business to the next level and let a highly-qualified TikTok Ads Agency manage your ads on the most popular app in the world, fill out our online form to book a call with us at Client Accelerators today!
If you're ready to take your business to the next level and let a highly-qualified TikTok Ads Agency manage your ads on the most popular app in the world, fill out our online form to book a call with us at Client Accelerators today!