Are you wondering whether it's possible to achieve $1.5 million in profit using YouTube ads? That's what Client Accelerators achieved for Russ Ruffino over the past 12 months.
Russ Ruffino is the CEO and founder of Clients on Demand. He is a top-performing marketing coach and consultant who employs innovative strategies to help thought leaders, service professionals, and businesses scale up. Clients on Demand landed a spot in Inc. Magazine's list of the top 500 fastest-growing American companies.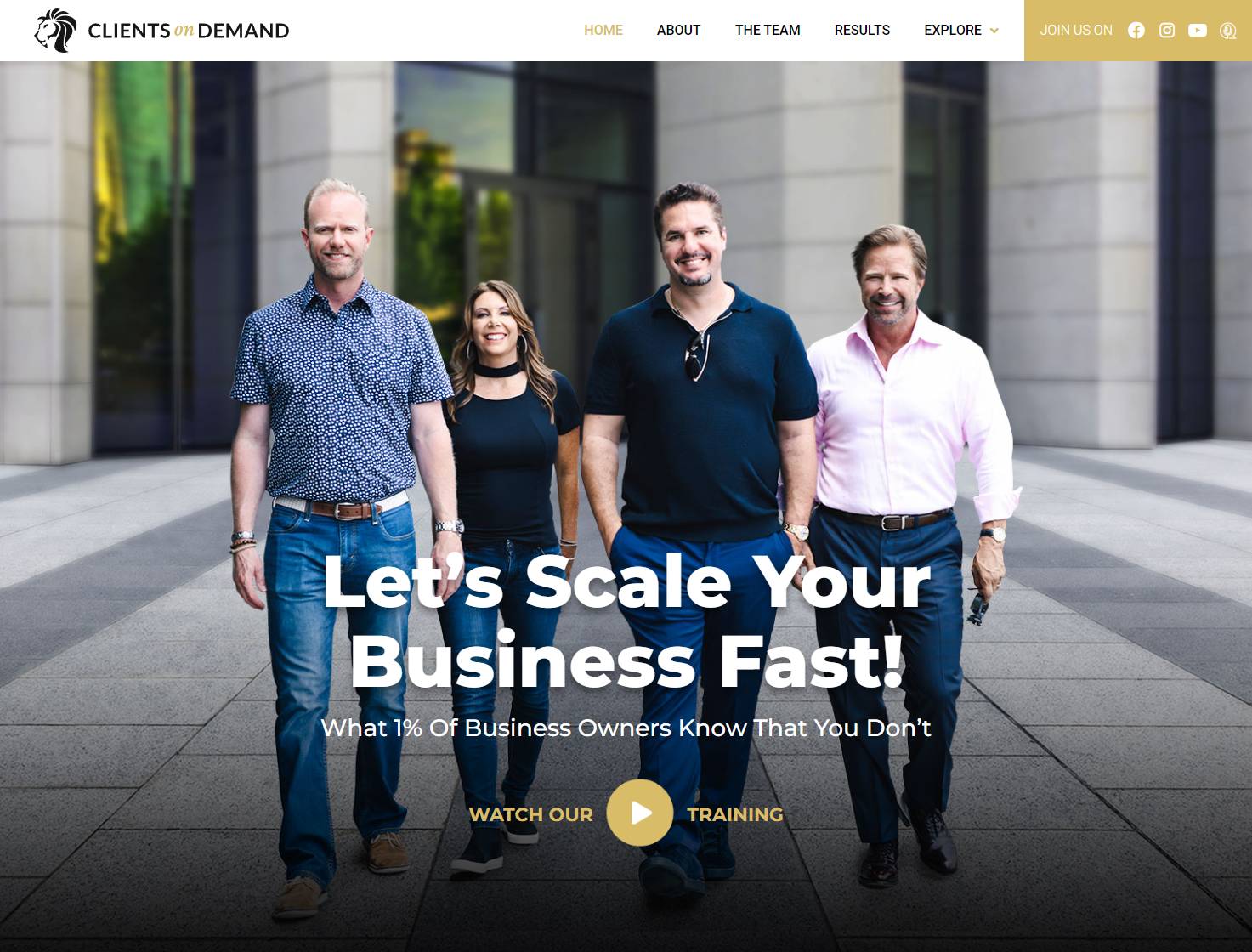 Learn more about how Client Accelerators helped Russ Ruffino grow his business with YouTube ads.
The Background
Here is the YouTube ad formula that Client Accelerators employed for Russ Ruffino and many other businesses across different industries:
Russ Ruffino had put his business on the map by advertising on Facebook. However, Russ also knew that he would need diverse channels to reach clients. Over the next six years, Clients on Demand tried to repeat their advertising success on YouTube, but none of their YouTube ad campaigns achieved the target results.
Russ Ruffino worked with both in-house advertising teams and various advertising agencies. The outcomes were disconcerting: advertising on YouTube was slow, ineffective, and expensive.
The Problem
The Challenges
YouTube is a mega platform with highly intense competition. Thousands of videos are vying for the attention of each potential client, and the main challenge is catching people's eye before they move on to something else.
An ad has only a couple of seconds to grab a viewer's attention. Since ads usually appear at the start or in the middle of a video, viewers see them as disruptions. Their first instinct is to skip the ad and go on with the video they were planning to watch. 
The Solution
Client Accelerators changed the entire picture of Russ Ruffino's YouTube advertising by following a formula that works for YouTube ads. The YouTube advertising team rewrote Russ's whole advertising strategy to give his business ads a stronger foothold in YouTube's ecosystem.
We worked with Russ Ruffino to create an introductory video that cuts right to the point by presenting Russ as the quintessential coach: friendly, energetic, and down to earth.
In his ad, Russ gives a brief and powerful message: "This video has the power to transform your life." He zeroes in on his target audience and addresses professionals who change their clients' lives, such as authors, speakers, and coaches.
Russ appeals to busy professionals by packing his client attraction strategy into one 45-minute presentation. He stresses that he doesn't spend all day online creating content and interacting on social media. This statement piques the interest of businesspeople with tight schedules. They want to know how this coach does what he does and how his methods can apply to their business.
The Russ Ruffino Method
Russ Ruffino's Results
Before hiring Client Accelerators for his YouTube ad campaign, Russ Ruffino paid $39 for every YouTube lead, $1,200 for a booked call, and $32,000 for every new client.
With Client Accelerators, Russ Ruffino's client acquisition costs dropped to $29 per lead, $312 per booked call, and $3,650 per new client.
That means Russ is now paying about 10 times less for every acquired client!
This isn't magic; it's a method. The YouTube pros of Client Accelerators know how YouTube works and implement effective strategies for advertising success on this platform.
How Client Accelerators Produces Efficient YouTube Campaigns
The secret of Client Accelerators is in clever YouTube ad scripting. Our YouTube ads yield a high ROI thanks to an effective formula:
From experience, the Client Accelerators team recommends that YouTube video ads run between two and three minutes. This timeframe is short enough to sustain the viewer's attention throughout the video but long enough to present all the vital information, like professional authority and proof of success.
Client Accelerators also uses HYROS (a robust ad tracking software for digital businesses) and Google Analytics to track the success of advertising campaigns for Russ Ruffino and other clients.
By entering Russ's conversion data into Google Analytics, Client Accelerators can view in-market segments and affinity audiences, which provides useful information regarding which population groups are likelier to convert following a YouTube ad.
This approach of in-depth analysis has helped preserve Russ Ruffino's ad-generated revenue even as the release of iOS14 placed restrictions on user data collection and sharing in 2021.
Harness the Power of YouTube With Client Accelerators
Are you ready to take your business to the next level with efficient YouTube advertising? Join Russ Ruffino and other successful businesses who work with Client Accelerators. Book a call today.