In this article, I'm going to break down how Client Accelerators scaled Russ Ruffino to $1,500,000 dollars in profit using Youtube ads in just 12 months.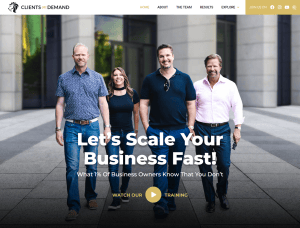 Russ is the Founder & CEO of Clients on Demand and is one of the top consultants in the digital marketing space. He helps coaches, consultants, thought-leaders and service pros attract the right clients, at the right price, anytime they want.
Clients on Demand gained traction with Facebook ads initially, and Russ knew that in order to safeguard his business he needed to diversify his client acquisition channels. He had been working to "crack the code" on youtube for nearly 6 years using a combination of in-house media buyers and other agencies, but all had made the same common mistake.
They were taking ads that were winning on other profitable advertising channels, and simply copying them over into a Youtube campaign.
Before working with Client Accelerators, these were the results Russ Ruffino was seeing with the broken "copy-and-paste" strategy:
In order to win with Youtube, you need to follow a formula.
Client Accelerators took a ground-up approach and re-scripted Russ Ruffino's ads using this newly created formula…
The Russ Ruffino Formula
Grab Attention asking them if they fit into these buckets

Introduce who you are and why people should listen to you
Show proof from other clients
Have call to action showing the actual landing page and where to optin, this increases optin rates

Show more proof

Final CTA showing landing page
…and these were the results:
While the creative is absolutely the most important element required for success with Youtube ads, it was supported by an advanced understanding of PPC advertising at scale.
In addition to handling Russ Ruffino's creative, we also setup Google Analytics in order to identify other winning in-market and affinity segments.
As iOS14 disrupted the paid advertising landscape in 2021, Client Accelerators was able to keep Russ Ruffino ahead of the curve by implementing conversion API tracking using Hyros which has allowed us to continue to make smart, data-driven decisions based on accurate conversion data.
If you're ready to scale your business with winning Youtube ads like Russ Ruffino, then click here to book a call with Client Accelerators today.