If you're prepared to promote your consulting services, yet uncertain about the strategies to utilize for acquiring clients…
This is your all-encompassing guide that unveils our nine concrete steps that enable you to attract the perfect client base to your consulting venture. 
As you explore this guide, you'll uncover actionable insights on finding consulting clients, such as:
Knowing your target market

Writing million-dollar ads

Crafting a successful launch plan

Creative testing with new angles

How to scale and optimize your campaigns
Whether you're an experienced consultant refining your client acquisition methods or a newcomer in the consulting domain, these proven steps will equip you with the tools needed to draw in and retain valuable clients.
This process will position your consulting services effectively before the right audience, effectively transforming leads into long-term clients in your consultancy journey.
What's Different About Getting Coaching Clients vs Consulting Clients?
We primarily work with consultants and coaches. While these two professional services are very much alike, they also both have their differences.
Getting consulting clients requires a unique approach because we often find that consultants are a little bit more niche than coaches.
This is because consultants are more often than not solving a very specific problem for a very specific type of client.
On the other hand, coaches are providing custom-tailored solutions to vast varieties of problems in blue ocean types of environments.
In today's article, we're going to discuss how to advertise to people with these very specific problems you're looking to address so that you can find consulting clients.
How to Get Consulting Clients: 9 Steps to Build the Right Client Base for Your Business
Step #1: Target Market Research
In order to truly be able to reach your consulting clients, you need to have an in-depth understanding of who they are, what they desire, and what makes them take action.
That means you need to do research on them and begin creating a profile of exactly who it is that you serve best.
Target market research means gathering and analyzing information about a specific group of potential customers who are most likely to be interested in and benefit from your product or service.
The goal is to gain a deep understanding of your ideal customers' characteristics, preferences, needs, behaviors, and pain points.
This information helps you tailor your marketing strategies, product development, and messaging to effectively reach and engage your target audience.
There are a ton of different research questions out there that you can begin with but we are going to do you one better today.
Get free access to the research questions we use in order to write killer copy and effortlessly attract the perfect consulting clients into your business.
This list of questions will give you ultra-clarity into who you need to be speaking to with your messaging and advertisements.
Done right, you'll be able to easily identify which avatars in your marketplace are truly the highly qualified prospects you want to be targeting.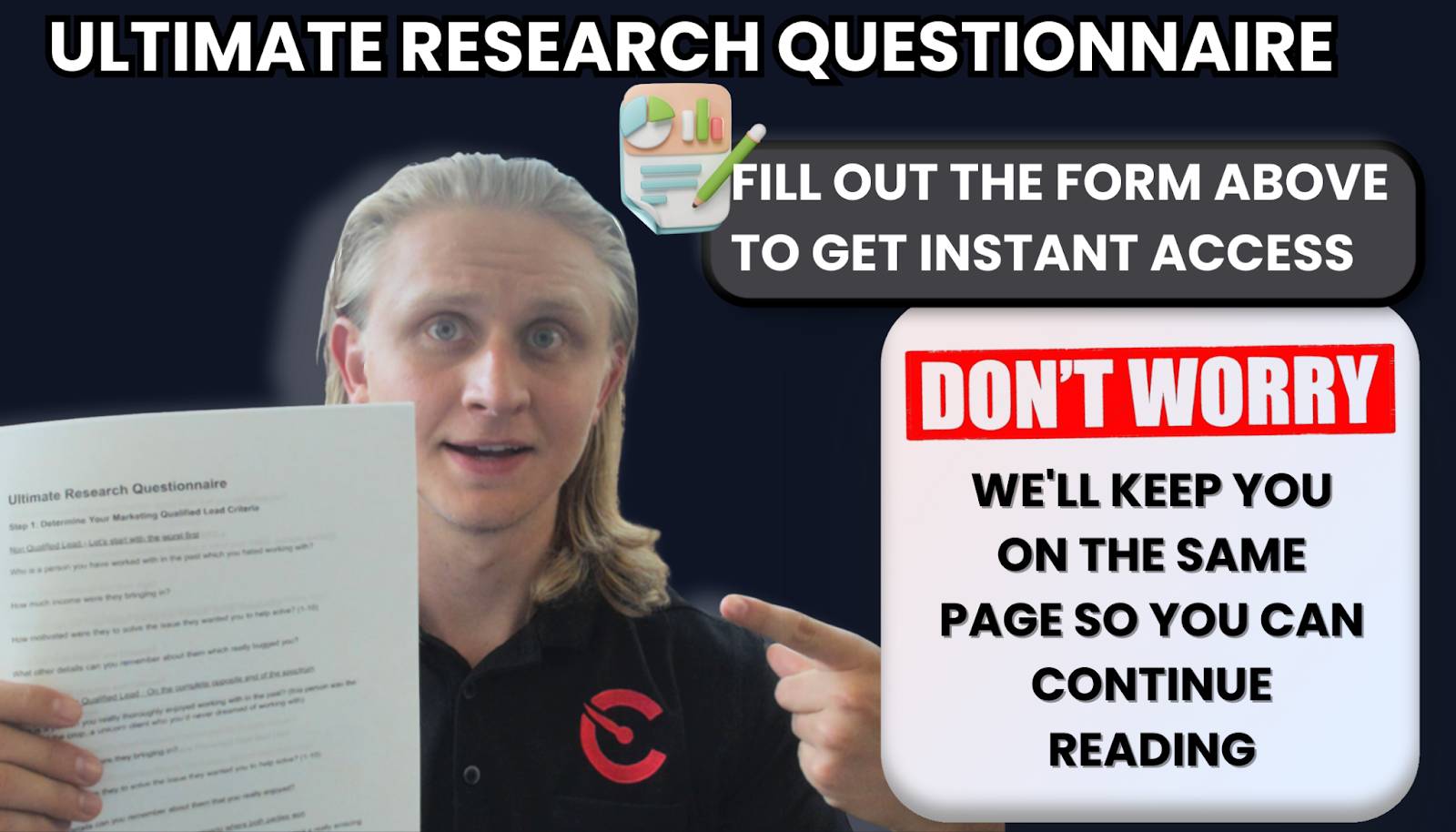 Step #2: Steal Our Million Dollar Ad Formula
Paid advertising is one of the fastest ways to get the word out about your consulting business. You can create hyper-targeted campaigns with Facebook ads to reach audiences who are likely to be interested in working with you.
If you're ready to write a winning ad, here's the template that we use:
Callout Your Target Market
We effortlessly capture the attention of the right audience by scripting our ads with the correct callouts in the hook.
You want to call out your target audience within the first 3-5 seconds of your advertisement.
This means saying something like "Being an executive woman is not easy."
A sentence like this will instantly repel any men from watching your ad as well as any women who are earlier in their careers.
You'll have executive women hooked (or whoever it is you're trying to attract).
Calculated Story
Now that you have your target audience hooked, you want to tell a story about who you are and what you've been through that they can relate to.
This will include your own personal story about how you climbed into heaven from hell.
Talking about your pitfalls and the struggles that you had which your target market is also struggling with.
Epiphany Moment
There had to be that epiphany moment in your life where you realized that you were headed in the wrong direction.
What's usually accompanied by this is called the Hero's journey.
Throughout your hero's journey, you had to overcome obstacles with perseverance and help from others.
Mass Desire Realization
After solving the problem personally, you realized that so many other people out there needed help with this as well.
And that's why you are on their screen speaking to them at this moment in time.
Heaven Scenario
This is where you describe and relate to your customers in their current situation and let them know what is on the other side.
Describing to them the life they could have and creating that vision in their mind.
Call To Action
After that, hit them with a call to action (CTA) and show them exactly where they are going to click and exactly what they will do on the next page.
Showing them exactly where they are going will not only get them familiar with the next page but will also set their expectations for what they'll see on the next page.
Proof
Then ideally you layer on proof to get them over the hump to take action.
Saying something like "My client, (Insert Name) went to the same page and took the same exact steps and now he's (Insert Heaven Scenario Where Your Client Is)."
This will build up the notion that these tiny baby steps could actually mean helping them obtain the results they want to get in their lives.
Call To Action Again
Hit them with the call to action (CTA) again.
You're continuously building up on why it's important they take action because that is the whole point of this ad.
We want to show them what we have to offer is more valuable than what they were just about to do.
End Screen
Give them 10 seconds after the video with a countdown timer and some music.
Sometimes people are just intrigued to hear everything you have to say and those people make it all the way to the end of the ad.
You don't want to miss these people because they are probably very interested in what you have to offer.
Here is an example ad that has produced millions of dollars using this formula
Step #3: Successful Launch Plan
A successful launch plan includes setting up tracking correctly (so that you know your numbers), getting qualified leads (not just any leads), and setting up the tech correctly so that it automatically does what you want it to do.
Let's dive into the details of each of these pieces.
Setting Up Tracking Correctly
In order to have any success with paid advertising, you'll need to work around the reporting issues with the traditional tracking solutions offered by Facebook, Google, and TikTok.
The hands-down best solution we've found for this after spending over $150M on ads is without a doubt, Hyros.
Hyros offers the greatest product we've ever seen for ad reporting and solves the simple problem of not being able to tie back your consulting sales to the ads they are coming from.
With the hyper-clarity that Hyros offers, you'll be able to easily make decisions about where to spend your ad budget.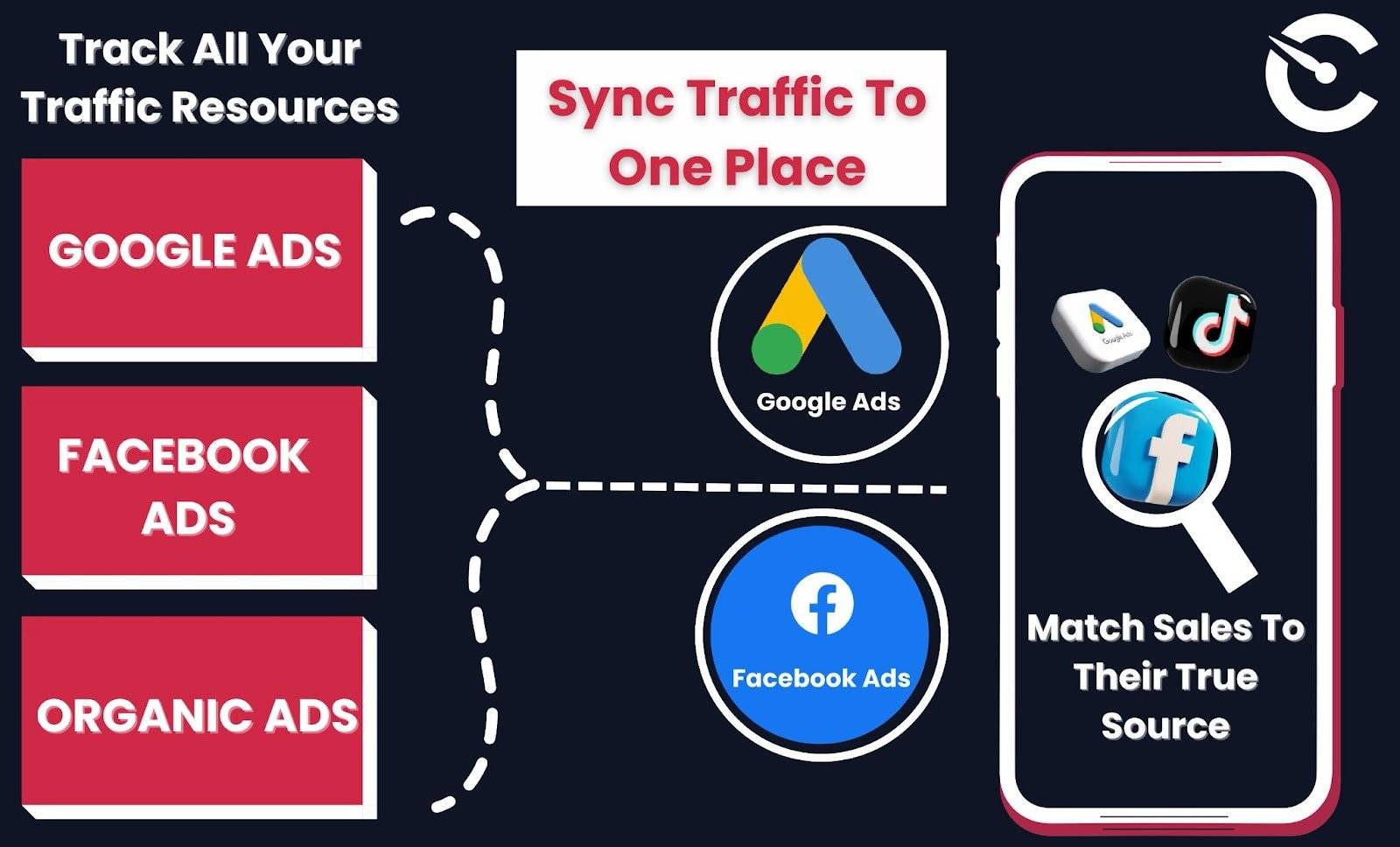 Bonus Feature: Qualified Lead Tracking
One remarkable advantage is the seamless ability to categorize our reports based on the qualification status of leads, differentiating between those that are deemed qualified and those that are not.
This segmentation allows us to efficiently organize leads into three distinct buckets:
SMQL = Super Marketing Qualified Lead
MQL = Marketing Qualified Lead
NQL = Non-Qualified Lead
With this feature, we gain a clear overview of lead quality, ensuring our attention is directed toward the most promising prospects. 
Hyros' sophisticated lead tracking not only aids in efficient management but also plays a pivotal role in optimizing resource allocation and targeting efforts, ultimately contributing to more effective and streamlined client acquisition strategies.
Here's what our Lead Tagging looks like in Hyros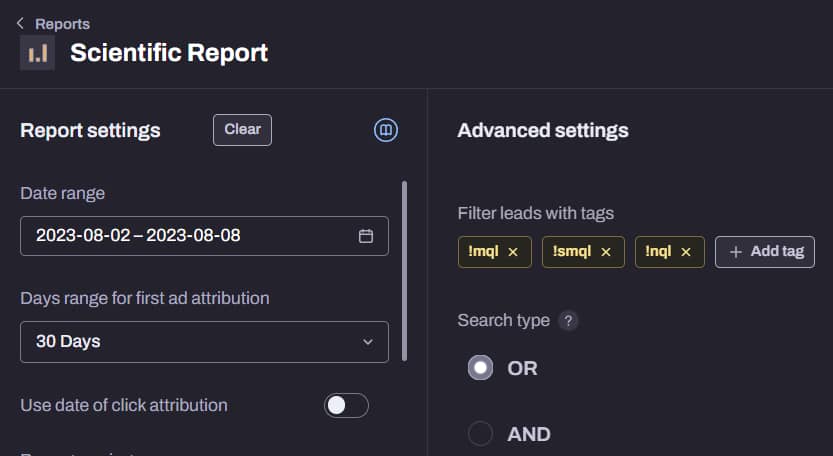 Tech Setup
Now that you have all of your criteria sorted out for what makes a lead an SMQL, MQL, and NQL, it's time to set up the actual tech stack so you can use this information to your advantage.
There are many ways you can do this but the simplest way is to set up a marketing automation that whenever someone fills out your form, all the information shoots over to a Google sheet.
We always use Zapier to set up this automation.
Once you get all of your lead information over into the Google sheet, you can set up conditional formatting so that it automatically shows you whether the lead is an MQL or an NQL.
This is part of our proprietary Lossless End-to-End Tracking system—the same exact setup we used to help our client produce 8 figures in profit in the past couple of years and get 9,950 qualified bookings in just two quarters.
Tracking and measuring our advertising campaigns ensures that we have a clear understanding of the performance of our campaigns. 
Without proper tracking, it's like trying to hit a baseball with the lights off – it's dangerous, and you're likely to miss more often than you hit.
Using a reliable tool to measure performance is essential because it allows us to see which campaigns, ad groups, and ads are generating the most profit.
This information enables us to make informed optimizations, leading to simpler and more effective campaign management.
Step #4: Quickly Identify Winning Ads
Once you get Step #1, Step #2, and Step #3 done, you'll be well-equipped to start running your ads.
With Hyros, it's going to become very clear which of your creatives are winners which will produce profits for your business.
As for the losers, when should you turn them off?
Our general rule for cutting losing ads is turning them off once they go 2-3X out of your target key performance indicator (KPI).
For example, if you need to hit a $5.00 Cost per click and your ad is at $10-15 CPC, then we would turn this off.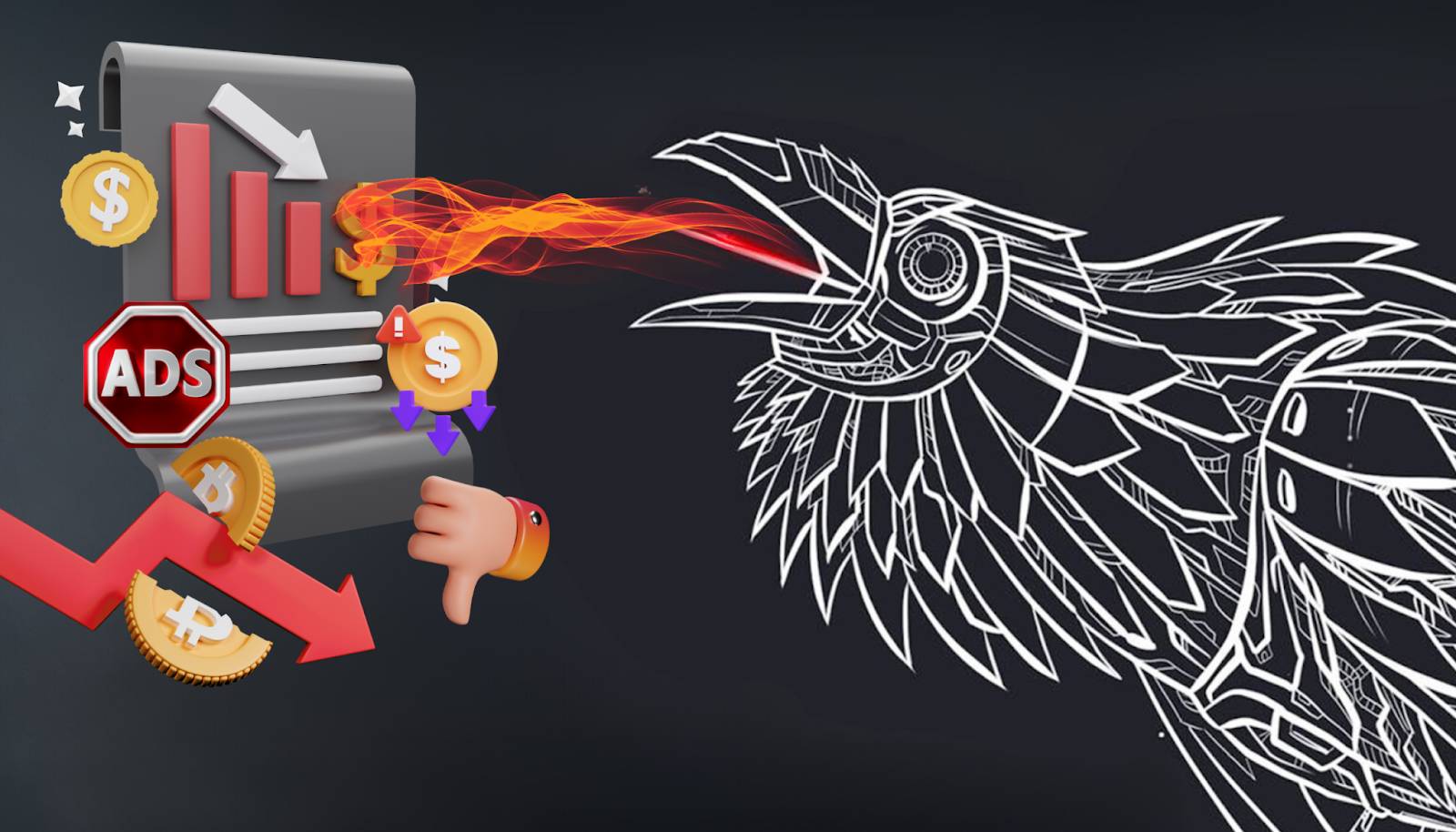 Step #5: Come Up With New Angles For Creative Testing
In order to cut through the noise and move people into taking action on your product, your messaging needs to touch people on an emotional level.
The key ingredient to any successful ad is coming up with a big idea.
A "big idea" is a compelling and attention-grabbing concept or angle that resonates deeply with your target audience.
They provide a creative and engaging way to convey your message, driving higher click-through rates, engagement, and conversions.
Ultimately, big ideas form the cornerstone of successful Facebook ads.
They encapsulate your value proposition in an innovative and captivating way, enabling you to effectively communicate your message, stand out in the digital crowd, and drive meaningful results for your advertising campaigns.
Start by brainstorming 10-15 big ideas for advertisements.
There are a few different ways you can come up with big ideas for your advertisements but for starters we highly recommend filling out the Ultimate Research Questionnaire.
Simply scroll back up on this page, enter your email address, and we'll shoot this over to you today so you can come up with unlimited ideas for your ads.
Step #6: Identify New Targeting Opportunities For Audience Testing
Now you have your winning creatives, so let's expand and add some more winning audiences to our portfolio.
Pair up your best-performing creatives with new audiences you haven't tested yet.
Similar to audiences, this will be leveraging the creatives to get the best return on investment (ROI).
After you've identified your best-performing creatives, pair them up with your new audiences and put some budget out to figure out which of your new audiences are going to land.
Step #7: Put Winning Combinations Into Scale Campaigns
Now that you have gone through the trials and tribulations of identifying 5-10 winning creatives and 5-10 winning audiences, let's identify your BEST combinations.
Once you find the creative + audience pairs which are providing the highest return on investment (ROI), put them all into a scale campaign.
This is going to be a campaign you'll run at $200 all the way up to $1,000 or more per day.
It will provide you with the majority of your consulting clients moving forward.
This is how we took a high-ticket offer from net loss to $751,307 net profit in five months using Facebook Ads.
This is exactly what we do in our signature 3-Phase Scaling Methodology.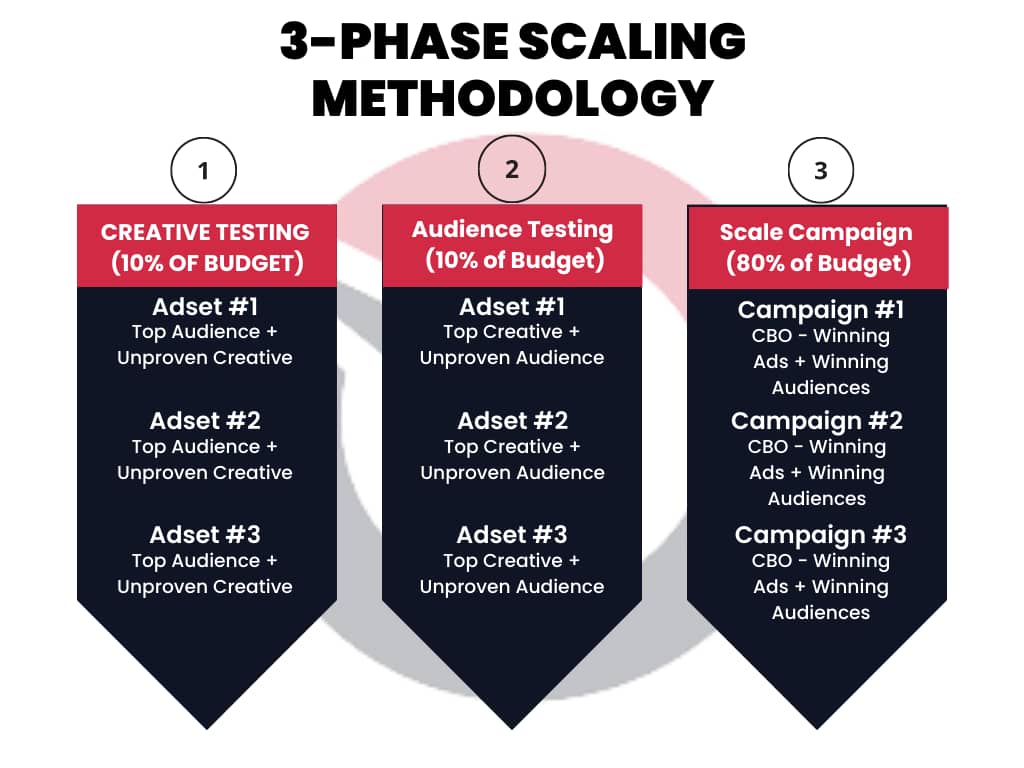 Step #8: Optimize Your Sales Calendar For Qualified Prospects
Once you have a good flow of qualified prospects coming into your business, it's time to optimize your sales calendar.
The moment you have been waiting for is finally here.
This is an opportunity for you to get all of those fence-sitters and tire-kickers off your calendar once and for all.
After leads fill out your application in the funnel, you can now send all qualified leads to your book a call page and redirect non-qualified leads to a downsell.
No more hopping on the phone with unqualified consulting clients who are almost impossible to close.
Step #9: Rinse & Repeat
Get Consulting Clients Fast with Client Accelerators
With the right pitch and a lot of effort, the strategies listed above show you how to get consulting clients fast…
…But we know that you didn't get into consulting to be trapped in your own marketing. 
Our experienced team of experts can take it off your plate and do it all for you, including:
Writing and scripting your ads

Setting up all the back-end tech

Interpreting the data so that you can scale much more quickly and easily.
Book a call to let us scale your ads and get you consulting clients.