If you're ready to scale your consulting business, but aren't sure where to invest your time and resources…
This article will show you the quick and easy way to know if it is time to scale your consulting business, 3 surprisingly easy ways successful consulting businesses scale their services, and our 8-step process to grow your consulting business to 7 figures.
Is It Time to Scale Your Consulting Business?
If you want to know if now is the right time to scale your consulting business, then first, we need to take a look at your funnel economics. Do your funnel economics actually make sense to scale?
We primarily work with consultants doing 6 to 7 figures who want to add on another $10-100k per month.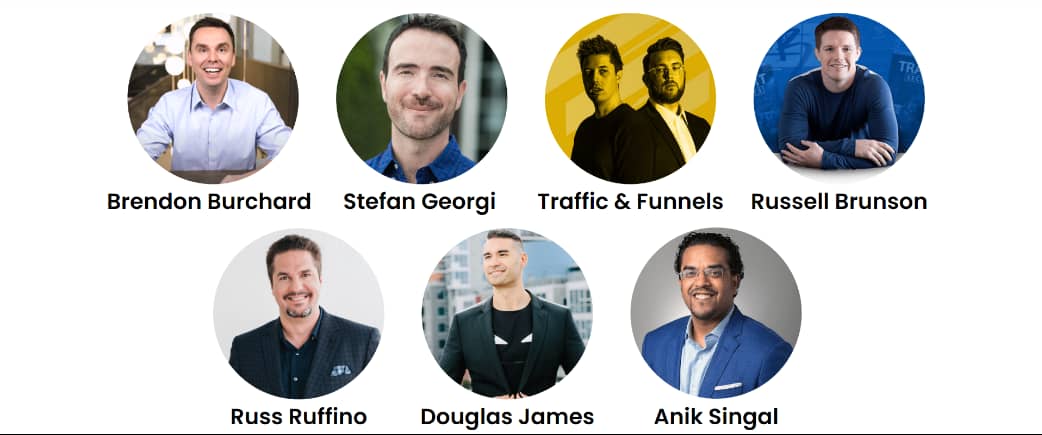 Keys To Scaling
When we analyze our client's economics to see if it makes sense for them to scale, we are primarily looking at profit margins and how a 10-20% increase in cost-per-click (CPC) could impact those profit margins.
In a perfect world, we'd like to see a consultant doing a 5-10X ROAS and spending around $10-30k per month on ads. This gives their business more than enough room for growth and expansion and is a great position to scale up from.
However, we know there are very few consultants out there who are actually pushing a hefty ROAS like that. If you're doing even a 2-4X ROAS on your ads and your overhead is pretty low, then you also could be in a good position to scale.
Every Situation Is Unique
Economics of a business are very circumstantial and are going to be unique to each consultant's expenses, so it is tough to pinpoint exactly when it is the right time to scale for your unique situation. 
That's why when we talk to consultants on the phone before they even sign up with us, we gather the information to know exactly where their business is economically, so we can understand their unique situation and whether or not they are able to scale.
If you want to see whether or not your economics make sense right now to hit your revenue goals, then book a strategy session with us here. We'll let you know exactly what we think you should do to scale your business and reach the next level.
This is truly one of the biggest things you want to get right when it comes to running your consulting business, especially if you're looking at doing paid advertising.
How Do Consulting Businesses Scale Their Services?
Method #1
Choosing A Scalable Paid Advertising Model
When we're looking at how profitable a consultant is going to be, we analyze a few key metrics which determine your cash flow and the overall return on investment (ROI).
Here are some of the key performance indicators we look at:
Cost per link click (CPC): how much does it cost to get someone to simply view your sales funnel
Cost per lead (CPL):

how much does it cost to get someone to opt in to your landing page

Cost per booked call (CPBC):

how much does it cost to get someone on the phone with you

Cost per acquisition (CPA):

how much does it cost to get someone to purchase your program

Average order value (AOV):

when someone actually purchases from you, what is the average amount of cash you're collecting upon the close

Earnings per booked call (EPBC):

how much money on average is each of the calls you're taking worth

Cash collected revenue:

how much money are you collecting every month

Cash collected return on ad spend:

the ratio between how much cash you brought in and the amount you spent over a given period of time

Total contract value (TCV):

how much money are you contracting every month

Total contract value return on ad spend:

the ratio between how much revenue you contracted and the amount you spent over a given period of time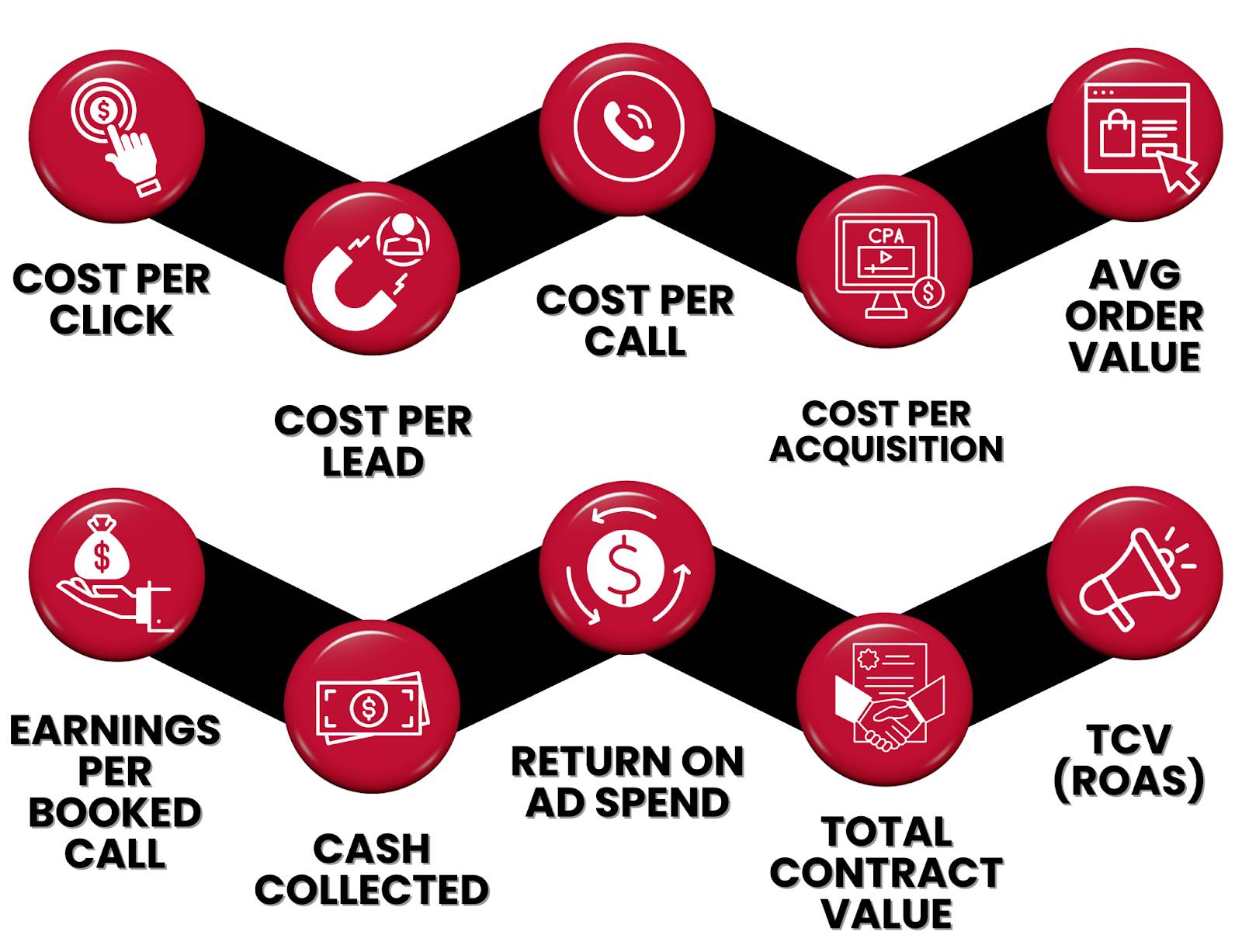 Leading Indicators Of Success
Of these 10 KPIs, there are 4 leading indicators of success: CPC, CPL, CPBC, & CPA.
These 4 metrics help you determine whether or not you're on pace to hit your metrics which occur later on down the customer journey, such as what occurs at the sale (lagging indicators).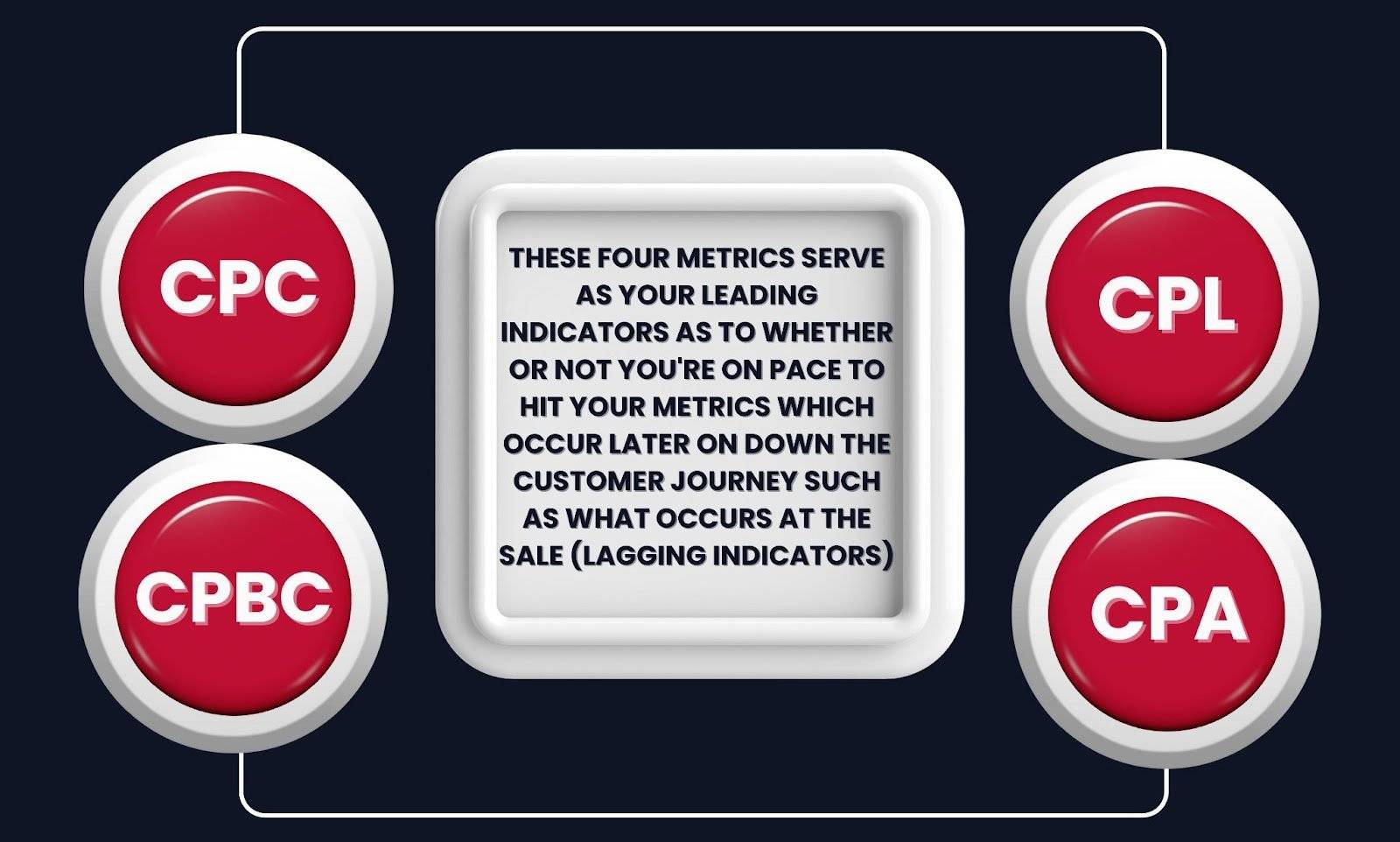 Cash Flow Metrics
Then there are the Cash Flow Metrics. These 4 metrics will really help you gauge how much money you're actually bringing in every month on top of your ad spend. They are AOV, EPBC, Cash Collected, & Cash Collected ROAS.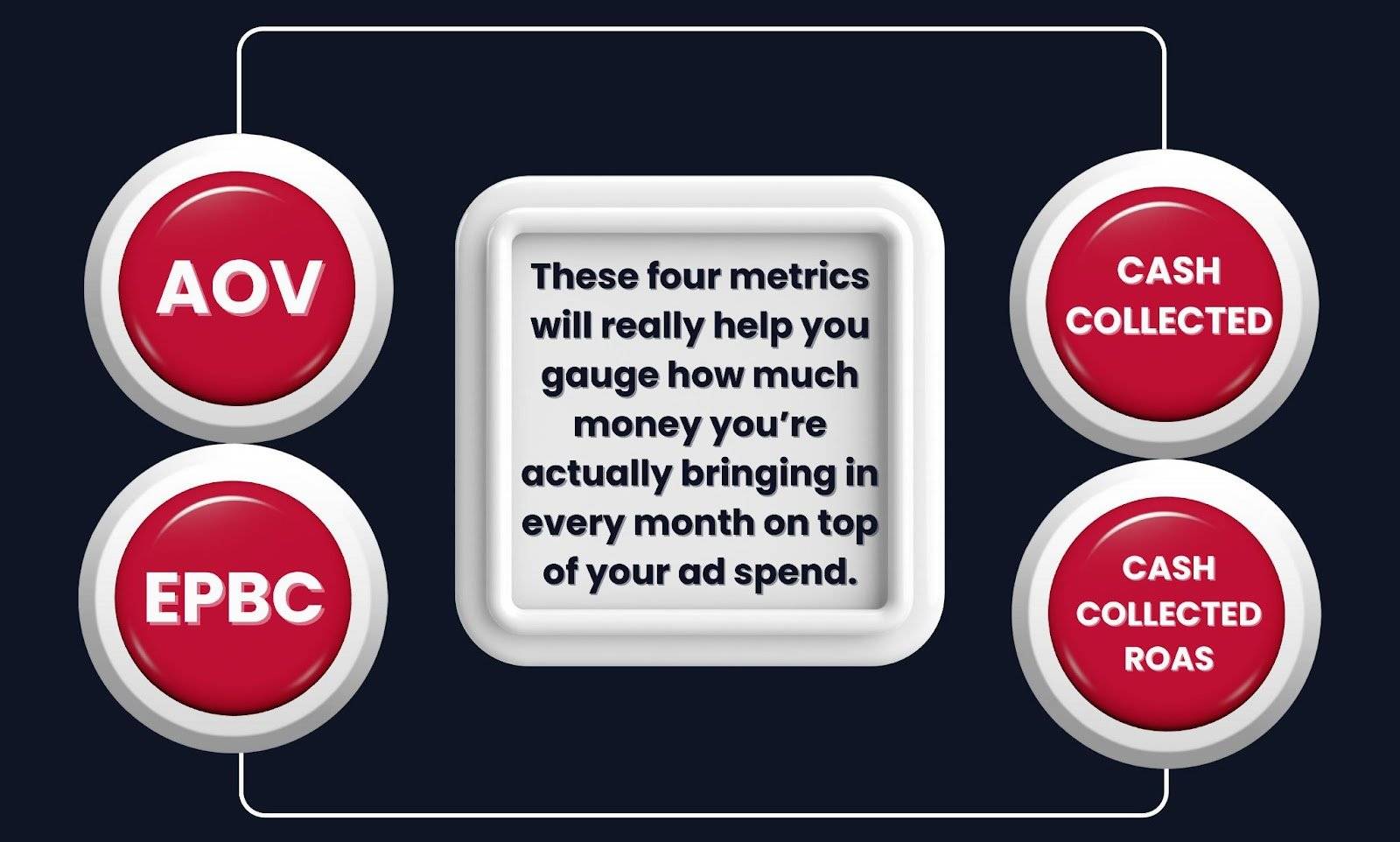 Future Revenues
The Overall ROI is determined by TCV, & TCV ROAS. These 2 metrics will show you how much current and future revenue you brought in with your ad spend over a given time period.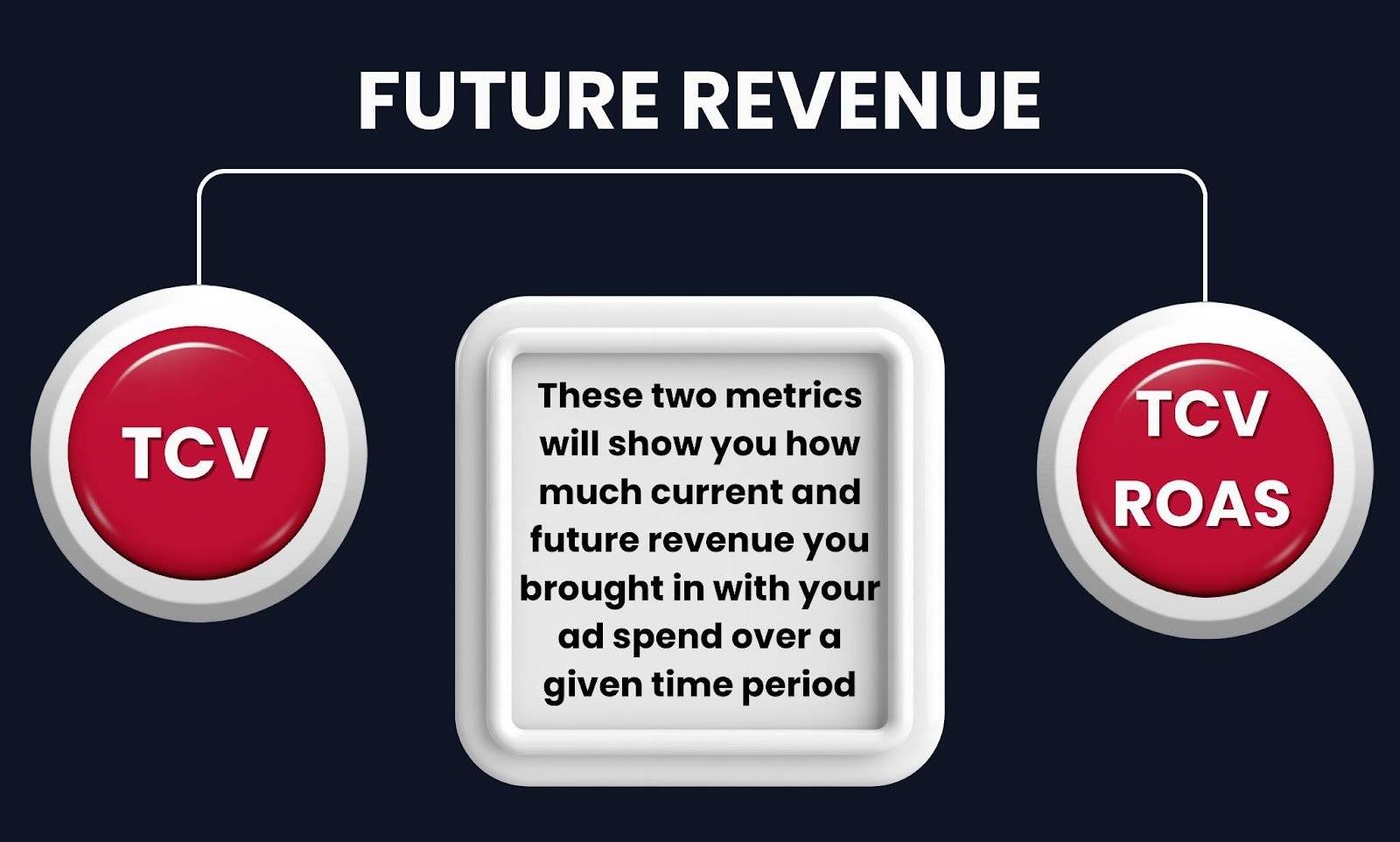 What does a scalable model look like?
In order to achieve success, which in this case is profit, we need to look at all these numbers and determine how we can make them work for our business.
Example Of A Profitable Model
Let's say that it costs us: 
$5.00 to get a link click 

$20.00 to get a lead

$150.00 to get a booked call

$2,500.00 to get an acquisition
We're selling a $7,500.00 program and 50% of the time our clients select the split pay option, which entails two payments of $3,750.00.
These Numbers Work
This would put our AOV at around $5,625.00. So not only are we looking at a 2.25 cash collected ROAS but an overall 3.00 TCV ROAS as well based on the full collection of the $7,500.00.
Another great metric we can see is the Earnings Per Booked Call, which is $337.50. This means that each call that we're taking is worth this much to our company.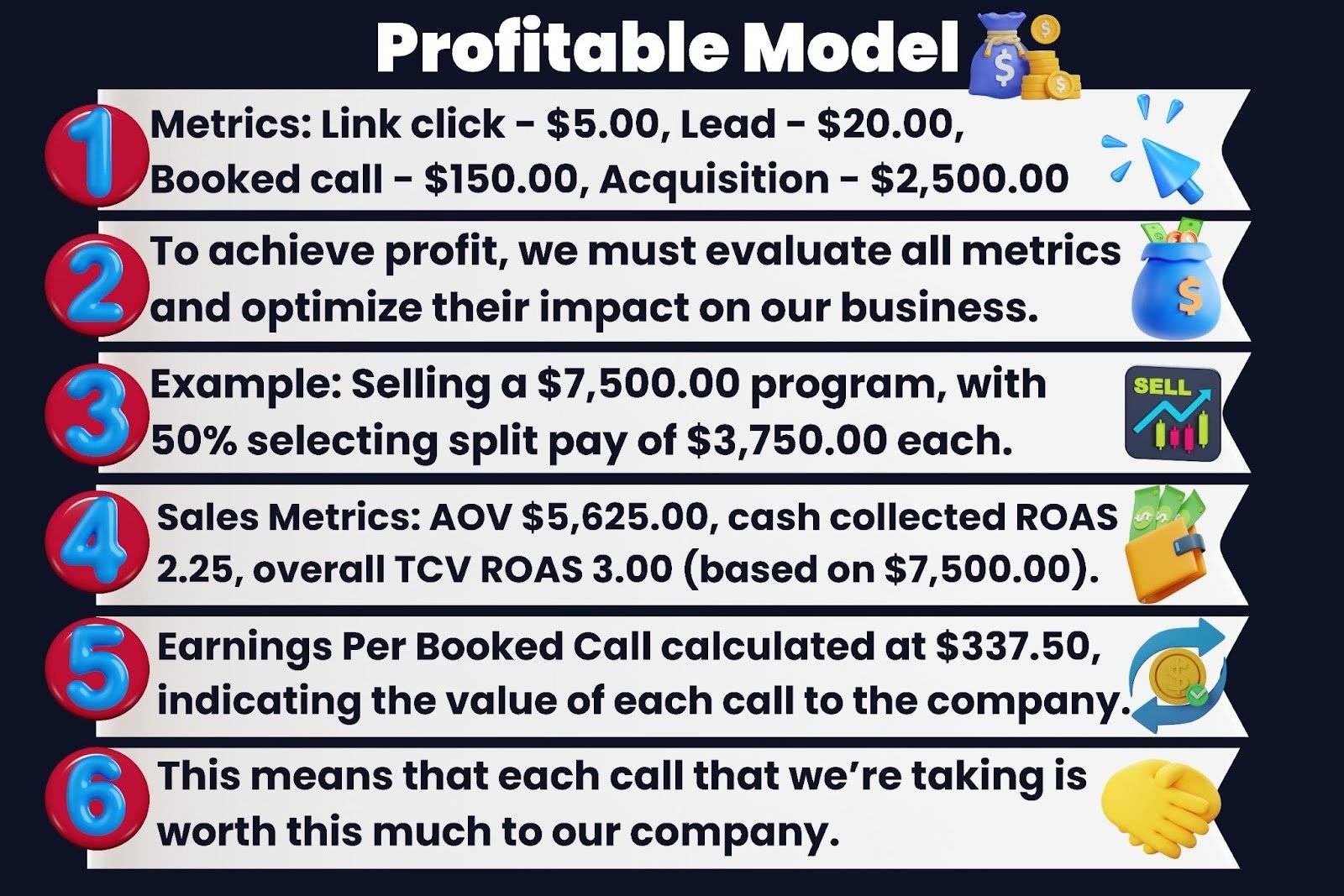 Method #2
Reviewing Marketing Expenses & Spending
In order to scale a business with paid advertising, we first need to understand where they're currently at in terms of performance.
One of the most important things we need to know about a business is what specific ad(s) the sales are coming from. This gives us all the ammunition we need to make informed decisions as to where to put our client's budget.
Sounds pretty straightforward and simple, right?
The Problems With Pixel Tracking
The problem is when businesses don't use a third-party tracking system to tie all of their metrics together. Traditional ad platform tracking is actually inaccurate by up to 60% in some cases! 
This is a HUGE deal because if you're making optimization decisions based on inaccurate data, then your quality of decisions are being massively impacted.
In order to tie your sales back to the specific ad they came from, we need to use Hyros, which is the best ad tracking platform on the planet.
When you implement Hyros, you'll finally be able to see the receipts for where you're putting your money as well as the ROI you're getting at each layer of your paid advertising efforts.
In the example below, we can see all of their metrics at the campaign level, ad group level, and ad level including Revenue, Profit, Cost Per Sale, AOV, and we're able to see much more!

Method #3
Pressing Into Leverage Points
A leverage point in this case is what actions are taken that are bringing in the highest return on investment (ROI).
In the example down below, we can clearly see which ad sets within this campaign are driving the most revenue.
One of the best leverage points we have down below is the 'YD – Ch3 (RT – statModel)' ad set which is at the top. It's producing the most profit ($28,335.15) and getting an excellent return on investment (ROI) of 941.73%.

There are a couple of different actions we can take to press into this leverage point.
Spend More!
The obvious action to take here is to spend more! This ad is getting a 10.42X return on the dollar we put in. So for every $1.00 we put in, we get $10.42 back. I don't know about you but I'll take that type of return every day.
The biggest point here is, the only reason we are able to clearly make this decision is because of Hyros and our ability to tie back sales, revenue, profit, and returns all the way back to the ad platform.
Success Analysis
Another less obvious action is to look into this ad set and see what we're doing here that is working so well.
In the example below, we can see there is an ad that is getting a 65.33 return, another getting a 14.43 return, one only getting a 0.80 return, and the last getting a 2.03 return.
We have all the data we could possibly need to make really great decisions in this situation.
The first ad is only spending $95.66 over the last 30 days and has an insane ROAS. So let's ensure we put more budget into this.
We can turn off the third ad which isn't producing a return and pour that budget into the two ads getting a 14X return or higher.
Scale Your Consulting Business to 7 Figures With This 8-Step Process
Step #1
Set Your Baseline Metrics Using Hyros
Install Hyros into your ad platforms and funnels so you can collect at least 2 weeks worth of data. This amount of accurate data will allow you to see where you're at so you can set a baseline for your current performance.
Step #2
Make Your Projections With GERU
Now that you have your baseline data set for all the metrics we discussed above (CPC, CPL, CPBC, CPA, AOV, EPBC, Cash Collected Revenue, etc), you can build a projection model of your funnel in GERU.
Your GERU simulation is going to look like this: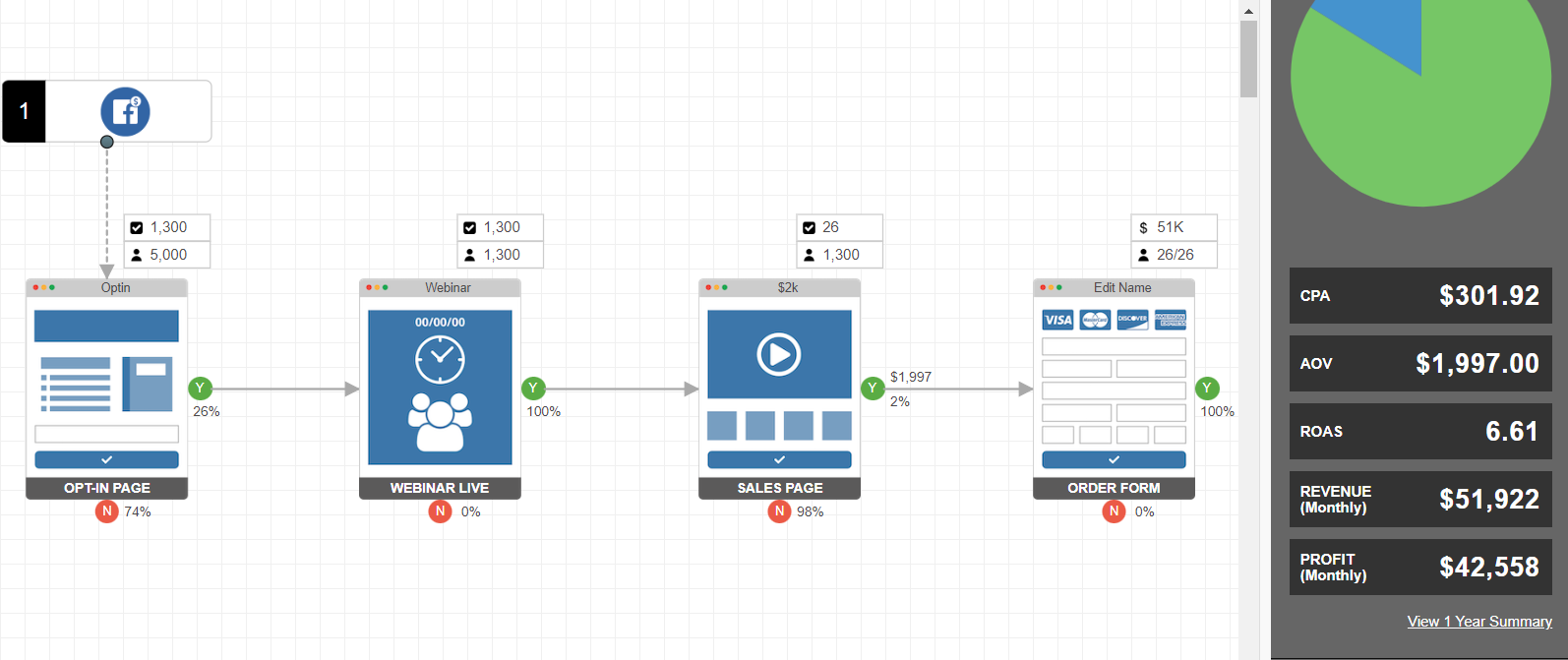 Building The Baseline Model
You'll be working with your conversion rates at each point in your funnel to come up with your baseline model. When you build it out right, it will accurately reflect all of your numbers.
The reason we built out a baseline model is so that we can build out more scenarios and see how an improvement in the conversion rates will impact our profitability.
Creating new tabs will allow us to organize each scenario into our project: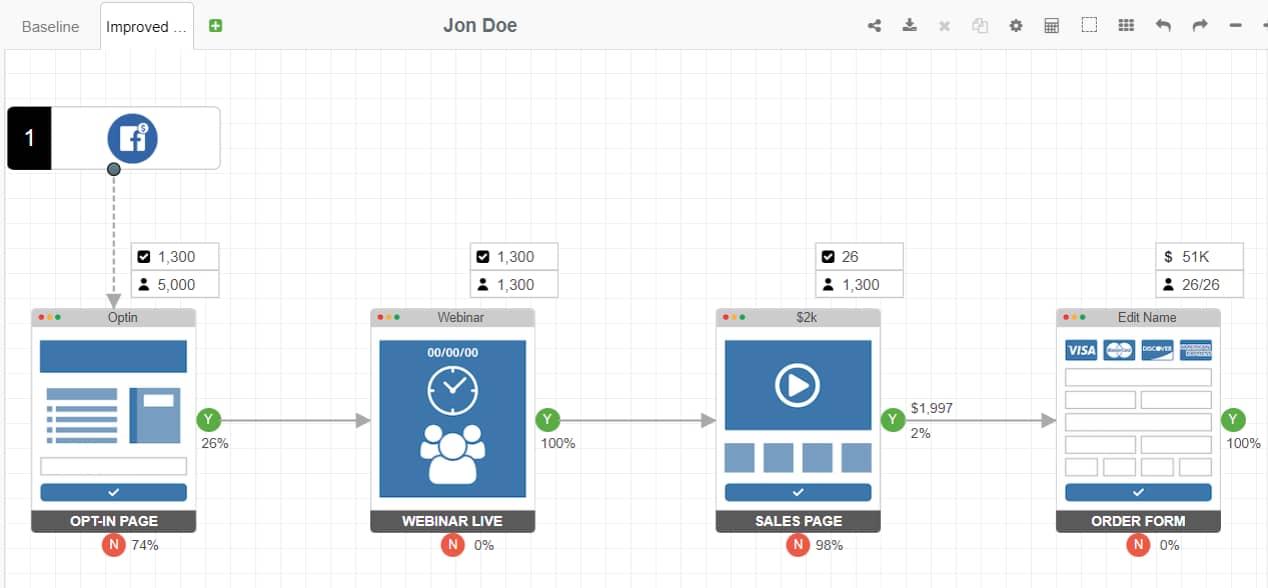 Improvement Mapping
Now let's say that we think we can increase the opt-in rate up to 30% and want to see how that would impact our revenue numbers.
It's very simple to go in and change the percentage and then we can instantaneously see how much more profitable we'd be with a slight change in our funnel.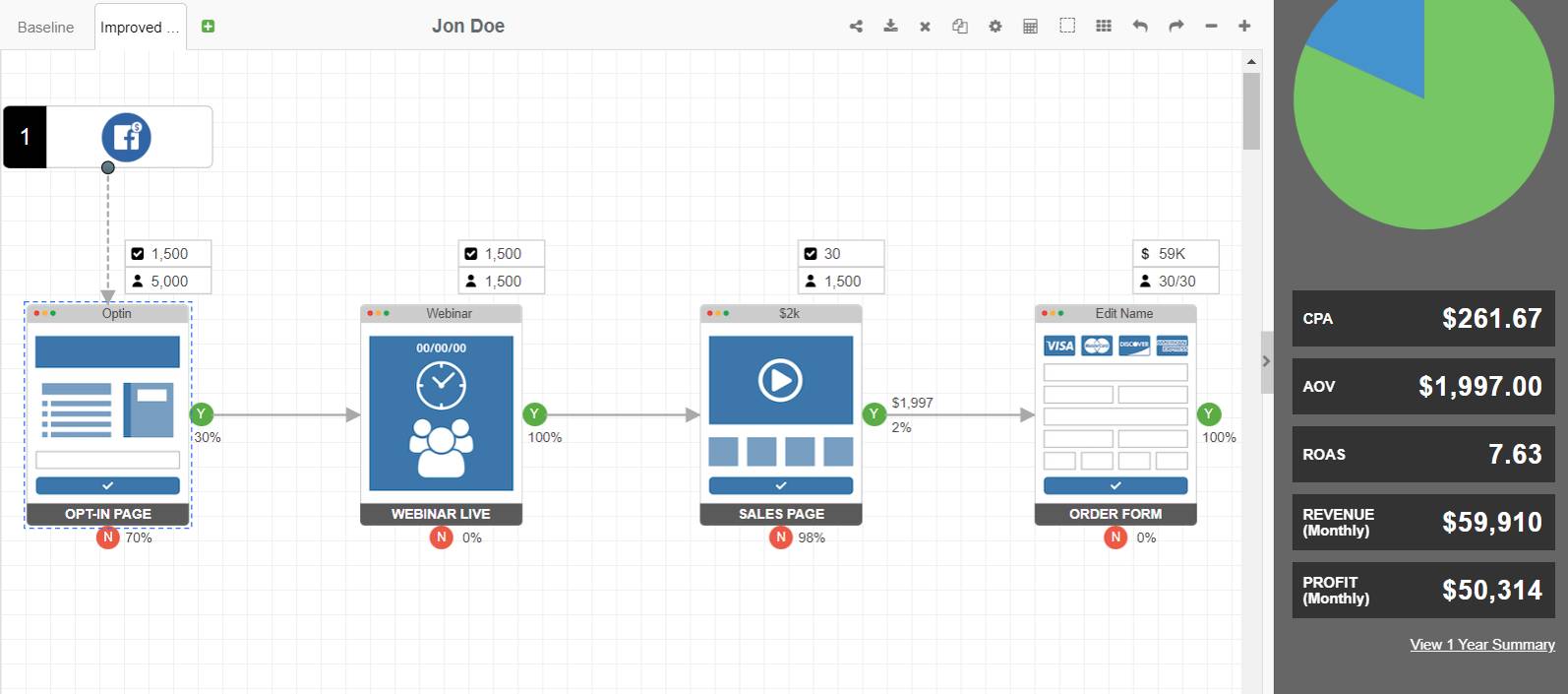 Step #3
Create Exceptional Ads Which Will Perform At Your Benchmarks
One of the most important metrics you need to hit with your ads is the Cost per click (CPC) because this is how much it costs you to get someone into your funnel. A great way to reduce your CPC is to deploy high-production creatives which appear more like cinematic videos versus a talking head.
Client's On Demand had a very niche-specific audience so their Cost per click (CPC) was above average but when we rolled out a cinematic ad that was produced in a big warehouse with a fake private jet inside, the results were pretty crazy.
His average Cost per click (CPC) was around $9-10 and compared to the ad listed first below, the warehouse ad (listed second) was 53.4% lower at $4.49.

Watch this ad to see what we mean by cinematic production.
Step #4
Put Them Into A Creative Testing Campaign
Once you've produced 3-5 really solid ads for your offer, then put them into a creative testing campaign.
The way we do this is by first identifying which audiences in the account are working the best.
This can be audiences getting the best Cost per click (CPC), Cost per lead (CPL), or Cost per booked call (CPBC) if that's all you have to work with. But ideally, it's based upon the audiences providing the best return on investment (ROI).
After you've identified your best-performing audiences, pair them up with your new creatives and put some budget out to figure out which of your new creatives are going to land.
Step #5
Identify Your Winning Creatives
With Hyros, it's going to become very clear which of your creatives are winners which will produce profits for your business.
As for the losers, when should you turn them off? Our general rule for cutting losing ads is turning them off once they go 2-3X out of your target key performance indicator (KPI).
For example, if you need to hit a $5.00 Cost per click and your ad is at $10-15 CPC, then we would turn this off.
Step #6
Put Winning Creatives Into Audience Testing Campaign
Now you have your winning creatives, so let's expand and add some more winning audiences to our portfolio.
Pair up your best-performing creatives with new audiences you haven't tested yet. Similarly to audiences, this will be the creatives getting the best return on investment (ROI).
After you've identified your best performing creatives, pair them up with your new audiences and put some budget out to figure out which of your new audiences are going to land.
Step #7
Identify Your Winning Audiences
We follow the same general rule for when you should turn off a losing audience (2-3X out of KPI).
However, with Hyros on your side, it's going to be easy to identify the new audiences which will provide you with revenues to come.
Step #8
Put Pairs Of Winning Creatives + Audiences Into Scale Campaign
Now that you have gone through the trials and tribulations of identifying 5-10 winning creatives and 5-10 winning audiences, let's identify your BEST combinations.
Once you find the creative and audience pairs which are providing the highest return on investment (ROI), put them all into a scale campaign.
This is going to be a campaign you'll run from $200 all the way up to $1,000 or more per day.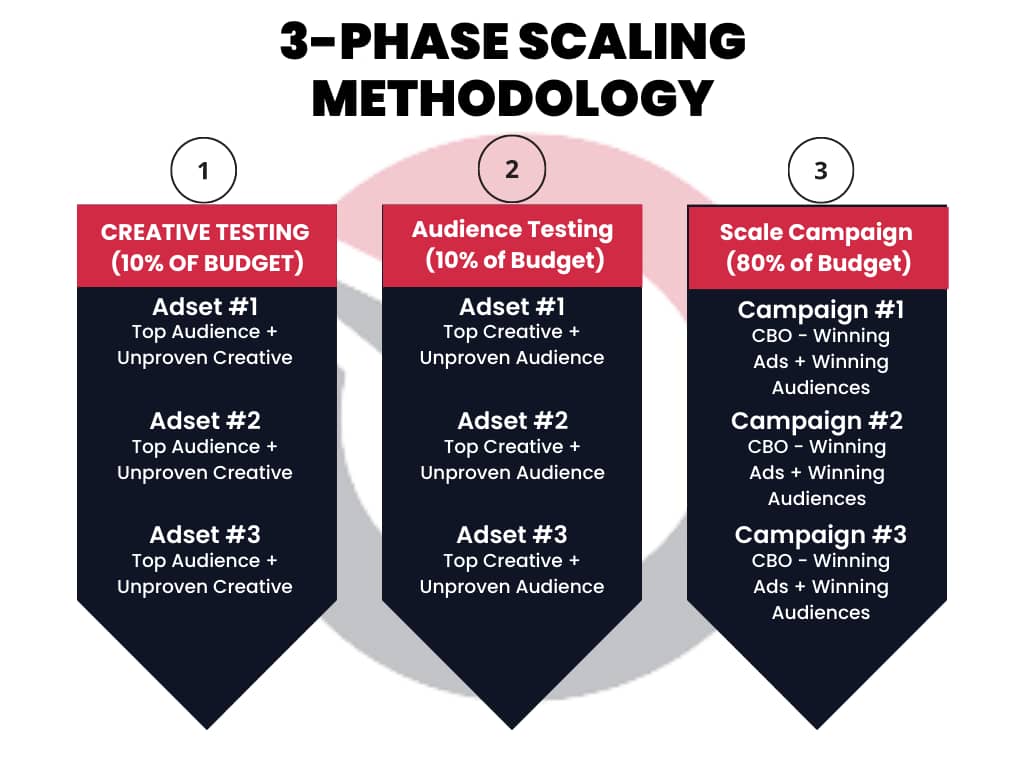 Take Your Consulting Business to the Next Level With the Right Ads
Now you know how to scale your consulting business to make more money consulting.
And if you wanna know how we could help you setup this process for your business
Including scripting all of your ads…
Putting together all of your videos…
And you want pretty much everything done for you by a high-class team of experts…
Then click here to book a Strategy Session with our team of experts to deep dive into your marketing strategy. 
We'll provide you with clear action steps you can take to make your paid advertising strategies more profitable!
Fill out the form here to book your Strategy Session with our Team.