Advertising on YouTube is a powerful tool for businesses to reach a wider audience and increase conversions.
In this blog article, we will break down exactly how we help our clients boost their profits through YouTube ads. We highlight some of the best-performing ads, including a video from Amped Local that has a 39.44% view rate. 
What factors contribute to creating a high-converting YouTube ad? How can you understand your target audience? What's the best length of your video ad?
The answer to these questions is the key to results like how we achieve $8,925,482.91 in net profit with Amped Local and 4,430 unique sales using YouTube ads. 
Keep reading to get the details on our proprietary Lossless End to End Tracking System, campaign targeting with custom intent audiences, a target CPA bid strategy, and a creative performance tracking system…and what tools we use to set ad campaigns for maximum success.
Four High Converting YouTube Ads (one has a 39.44% view rate!)
YouTube is a platform that is solely based on videos, making it the perfect place for businesses to create ads that can capture the attention of their audience.
With the rise of YouTube as a popular entertainment platform, it has also become a breeding ground for various ad formats.
From hilarious viral videos like "Charlie Bit My Finger" to motivational speeches like Tai Lopez's "Here in my garage," YouTube has it all.
At Client Accelerators, we have helped numerous clients boost their profits through their YouTube ads.
Here is an exclusive behind-the-scenes look at some of our favorite YouTube ads that have crushed it for our clients!
Clients On Demand – Russ Ruffino
Warehouse Ad – Do you know where your next client is coming from?

CTR: 0.81%
Avg CPC: $9.72
Avg CPM: $79.01
View Rate: 26.71%
Interrogation Ad – Secret to turning coaches into Millionaires

CTR: 0.88%
Avg CPC: $5.68
Avg CPM: $49.76
View Rate: 18.94%
Amped Local – Douglas James
Real Estate Pr*n

CTR: 1.2%
Avg CPC: $4.14
Avg CPM: $49.83
View Rate: 39.44%
Desperate For Leads

CTR: 1.14%

Avg CPC: $4.10

Avg CPM: $46.73

View Rate: 31.29%
These are some of the top high ticket coaches & consultants in the game. If you're selling a high ticket program then you're in luck because YouTube Ads will work great for you.
The funnel economics make much more sense for high ticket because leads can be more expensive on YouTube compared to other platforms. The tradeoff is the lead quality because you're looking at leads with higher intent on YouTube.
One of the biggest benefits of YouTube ads is the targeting capabilities. With YouTube, you can target specific demographics, interests, and behaviors, making it easier for your ad to reach your ideal audience.
However, it's important to note that a great ad needs to be more than just well-targeted. It should be engaging, creative, and leave a lasting impression on the viewer.
To create a high-converting YouTube ad, it's important to have a clear understanding of your target audience. You need to know who they are, what they want, and how your product or service can benefit them.
Once you have a clear understanding of your target audience, you can begin crafting your ad with them in mind.
Another important factor to consider when creating a YouTube ad is the length. Shorter ads tend to perform better, so it's recommended to keep your ad between 15 and 30 seconds.
The first 5 seconds of your ad are crucial, as they will determine whether or not the viewer will continue watching. That's why you need to make those first 5 seconds count by grabbing their attention with an engaging hook.
Another important aspect of a high-converting YouTube ad is storytelling. Storytelling is a powerful tool that can help create an emotional connection between the viewer and your brand.
By telling a story that resonates with your target audience, you can create a sense of trust and authenticity that will ultimately lead to higher conversion rates.
Finally, it's important to have a clear call to action (CTA) at the end of your ad—and maybe even one or two more in the back half of your ad.
This can be as simple as asking the viewer to visit your funnel, sign up for a free trial, or watch your free training. The CTA should be simple, clear, and easy to follow, so the viewer knows exactly what to do next.
YouTube ads can be a powerful tool for businesses looking to reach a wider audience and increase conversions.
By creating engaging, targeted, and creative ads that resonate with your target audience, you can drive traffic to your website, increase sales, and grow your business. With the right strategy and a little creativity, the possibilities are endless.
How We Did $8,925,482.91 In Net Profit With Amped Local And Did 4,430 Unique Sales Together Using YouTube Ads

There are four major components that came together to produce this incredible result: our proprietary Lossless End-to-End Tracking System, campaign targeting with custom intent audiences, a target CPA bid strategy, and a creative performance tracking system.
Let's dive into each component so that you can see exactly how we achieved these results.
Our Lossless End-to-End Tracking System
Tracking and measuring our advertising campaigns ensures that we have a clear understanding of the performance of our campaigns. Without proper tracking, it's like trying to hit a baseball with the lights off – it's dangerous, and you're likely to miss more often than you hit.
Using a reliable tool is essential. Measuring performance is the key to success and if your measuring tool is off, then you need to find a new one, period. 
We use a third party tracking system called Hyros so that we can accurately track ad performance. Hyros gives us the ability to track our sales back to the ad much with 95% accuracy. This is in contrast to traditional pixel tracking, which can be off by up to 60%. 
With Hyros, we can see which campaigns, ad groups, and ads are generating the most profit. This information enables us to make informed optimizations, leading to simpler and more effective campaign management. 
By using Hyros, we ensure that our advertising efforts are accurately measured and our campaigns are optimized for maximum success.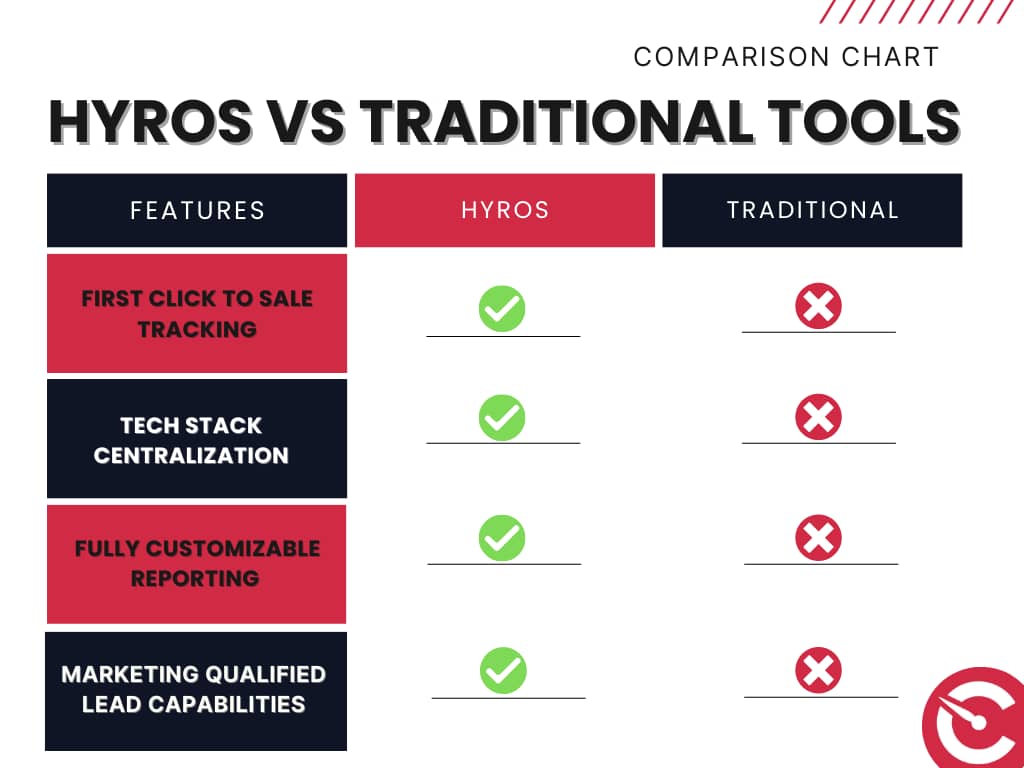 The Campaign Targeting We Used To Reach Millions of People
Custom Intent Audiences are one of the best options for high ticket coaches to run on YouTube ads. Like Facebook, Google gathers data about their users through their Google Analytics tool. Wherever Google's code is pasted on the internet, they are capturing user activity. (… and it's everywhere!)
So what does it mean for Custom Intent audiences? With users' information in hand, Google is able to identify some pretty cool things including whether or not someone intends to buy something. 
The custom intent audiences then are perfect for high ticket coaches because the impression pool is just large enough for scaling and the users are people ready to pull out their wallets.
Generally speaking, custom affinity audiences have much less intent and would work much better for lower ticket items. We have seen some success with custom affinity but we're only running to one custom affinity audience on this account.
Bid Strategy To Optimize For The Best Results
Here is our Target CPA Bid Strategy, which is based on data so that it is easy to make informed decisions to get the best results at the best price. 
First, we start the account out with Maximize Conversions to build up some data. Once we set our baseline metrics and know the Cost Per Action (CPA) of those campaigns, we can start getting more aggressive. tCPA basically tells Google the CPA that we want and that we'll only accept. 
If Google can't get us that price, then the campaigns won't spend. This helps us to maintain consistency in results especially when scaling up the ad account.
Then we need to consider the creatives, and how we're going to track them as well.
Creative Performance Tracking System
The problem with tracking creatives is that they tend to get scattered across different campaigns which makes it challenging to get a true view of performance.
You need to be able to see clearly which creatives are bringing in the most revenue and profit to make good budgeting decisions. This is a luxury that the Google Ads platform just can't afford to you. 
We've solved this issue by culminating all of our ad platform data and our Hyros data into one sheet.

This lets us see clearly percent of budget per creative and how much revenue and profit each individual creative is producing. Making scaling and optimization decisions much clearer and easier to make.
Our success with YouTube Ads is the result of a combination of strategic components that work together seamlessly.
Our proprietary Lossless End-to-End Tracking System ensures that we accurately measure the performance of our advertising campaigns.
Custom Intent Audiences allowed us to reach millions of people who were ready to make high ticket purchases.
Our Target CPA Bid Strategy helped us to maintain consistency in results, while our Creative Performance Tracking System enables us to see which creatives were bringing in the most revenue and profit. 
By using a reliable tool like Hyros, we were able to make informed optimizations and manage our campaigns more effectively.
These strategic components are essential to achieving success with YouTube Ads and we hope that by sharing our experience, you can benefit from our approach.
Two Staple Strategies For Scaling YouTube Ads To $13k+ Per Day
The first strategy is a 3-phase scaling methodology that involves creative testing, audience testing, and CBO scale campaign. The second strategy is the Nuke strategy, which calls for duplicating winning creatives to the best-performing audiences to horizontally scale the account. Let's dive in.
3-Phase Scaling Methodology
Phase 1: Creative Testing
Our creative team scripts new creatives, our clients give us the raw footage, and then our video editing team handles the post production.
We test those creatives to the best performing audiences in the account and quickly find our winners within the first 7-14 days of launch.
As we quickly find our winners and cut our losers…We replace the budget we cut with the ads that are working the best.
It's important to monitor your ads closely in the beginning because you don't know whether or not they're going to work. Once they go 2-3x out of your target KPI, we need to cut them so we can quickly get your budget over to the best performers.
Phase 2: Audience Testing
Once we identify our winning creatives it makes finding more winning audiences much simpler. Now we know with confidence that the creatives work and so it gives us an edge when trying to find more audiences because we have a control variable.
So we take our control variables from Phase 1 and pair them with new and untested audiences for each offer. Following the same cadence of cutting out the audiences that go 2-3x out of KPI. Ideally, we want to find as many winning audiences as possible because it will make it much easier to scale.
Phase 3: CBO Scale Campaign
Finally we identify our top creatives and top audiences from Phase 1 & 2…
We throw the best pairs into CBO campaigns where 80% of our budget will go because we know with a high level of certainty that those combinations work.
We then allocate 20% to the testing budget so we can continue to find new winning creatives + audiences.
Ultimately giving us a media buying model that we can leverage long term and see good results consistently and healthily scale our ads for high ticket coaches and consultants.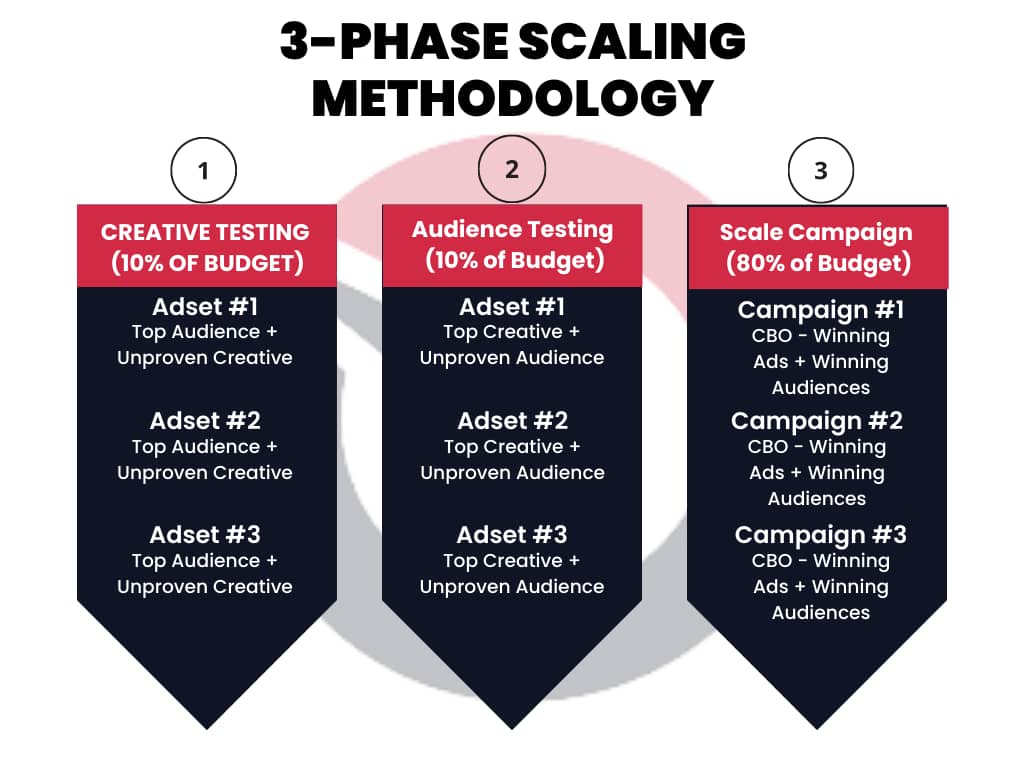 The Nuke Strategy
This strategy calls for duplicating out the winning creatives to the best-performing audiences to horizontally scale the account.
We already have a bunch of winning audiences for high ticket offers as well. We've tested hundreds of audiences for high ticket coaches and consultants so we know which ones work and which ones don't.
Once you find your winning audiences AND creatives, it's about duplicating the winning campaigns horizontally instead of vertically increasing individual campaign budgets.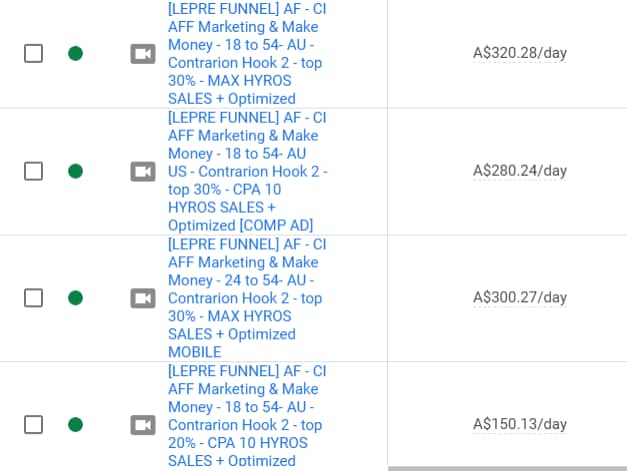 We do this a number of times with numerous campaigns until we find the ones that perform the greatest. This stabilizes CPM's while scaling and also allows us to cut the losing campaigns faster.
Scale Using The Power of YouTube Ads With Client Accelerators
Now you know how to implement our top Facebook ad formula to put more dollars in your pocket and make the most out of your ad spend.
And if you wanna know how we could help you setup this process for your business
Including scripting all of your ads…
Putting together all of your videos…
And you want pretty much everything done for you by a high-class team of experts…
Then click here to book a strategy session with our team of experts to deep dive into your marketing strategy. 
We'll provide you with clear action steps you can take to make your YouTube ads more profitable! Fill out the form here to book your Strategy Session with our Team.