Are you a coach struggling to get coaching leads in your business?
In this blog, we'll discuss lead generation for coaches, the problem most coaches face, and what to do about it. 
As a leader in digital marketing, we understand that finding the right strategy to bring in leads can be time-consuming and frustrating. 
We've Honed In Our Approach After Spending Over $150M On Ads
Our experts have spent countless hours analyzing, testing, and refining our approach to lead generation for coaches, and now we're sharing our insights with you.
If you're trying to find more leads but aren't sure where to look or what strategies to use, it could be because you're facing two huge problems. 
Lead generation is unpredictable. 

Lead quality is atrocious.
We are constantly running into coaches who are struggling to get their sales calendars maxed out with highly qualified prospects. 
If you're struggling with one or both of these issues, then keep reading!
It's Not About Finding the Most Leads…It's About Finding the Right Leads
Let's start with the end first.
The reason that you're not closing more deals is that you're simply not talking to the right people. 
You could be talking to A LOT of people, but you're likely finding that a lot of them are broke and can't afford your services.
This means one thing: your sales calendar is filled with crap leads that don't have the disposable income to purchase your high-ticket program. 
You Get What You Pay For
You're probably saying to yourself, "Tell me something I don't know"…
The root problem here is that your marketing strategy isn't optimizing for qualified booked calls.
Almost everyone we see is making the mistake of optimizing their ads or their marketing efforts on the cheapest leads, the cheapest calls, and marketing is the same as anything else: "You get what you PAY for".
Top 3 Platforms to Find Coaching Leads Without Wasting Your Money
The solution is this: Learning how to use YouTube, Facebook, and TikTok effectively. 
While you may have some doubts about the audience these platforms reach, let's dive a little deeper into the potential of each:
YouTube Ads
YouTube is our bread-and-butter platform. In fact, we helped Russ Ruffino drop his cost per acquisition (CPA) from around $39,000 to $3,650.61 on a $10k program. (See more here)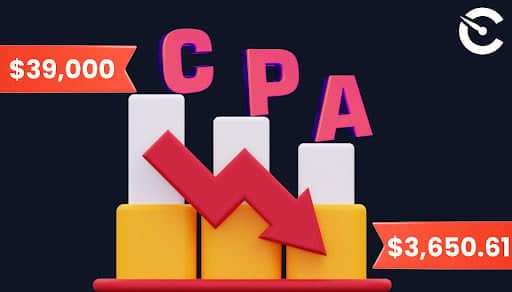 From Losing $29K Per Customer To Over $1.5M In Profits
We cracked the code on YouTube ads for him where he was previously losing about $29k for each client he signed to producing $1.5M in net profit.
The reason why YouTube is such a great platform to advertise coaching services is because of the lead quality.
People are already on the platform to learn because they have a specific problem they want to solve.
If you capture these high-intent leads with a powerful advertisement, then you're surely going to enjoy the results and qualified bookings appearing on your calendar every single day!
Our Million Dollar Ad Formula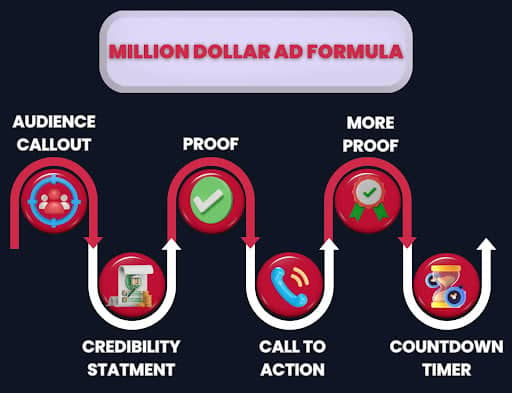 Audience Callout
We effortlessly capture the attention of the right audience by scripting our ads with the correct callouts in the hook. 
You want to call out your target audience within the first 3-5 seconds of your advertisement. This means saying something like: 
"Are you a coach, author, expert, or speaker?" or "Are you a coach or consultant making $10k or more per month?"
Credibility Statement
Now that you have your target audience hooked, you want to tell them who you are and why they should listen to you.
Review your list of achievements so that you can say something like "My name is Russ, and I've worked with over 300 coaches, authors, experts, and speakers. We've helped them produce a cumulative $1B in total revenue."
First Round Of Proof
They are hooked, they know who you are, and now it's time to nail them with proof that you've accomplished the results they are looking to achieve in their own lives or businesses. 
This way they know exactly what you've done and it steers your advertisement away from "this is what you should be doing" to "this is exactly what we're doing".
First Call To Action
After that, hit them with a call to action (CTA) and show them exactly where they are going to click and exactly what they will do on the next page. 
Layer On Even More Proof
Then ideally you layer on even more proof to get them over the hump to take action.
Another Call To Action + Countdown Timer
Lastly, hit them with the call to action (CTA) again and give them 10 seconds after the video with a countdown timer and some music. Here is an example of an ad we ran for him.
Million Dollar Ad Formula Example
Facebook Ads
Let's take a look at another one of our clients. 
Douglas James was really struggling with Facebook ads. In fact, he was losing money just like Russ was on YouTube. 
In order to take him from -$55,536.78 to over $750k in profit, we had to start optimizing his ads around cost per qualified call instead of just cost per call. (You can read the full case study on how we did that here).
99% Of People Are Doing This Wrong
The way we did this was by really leveraging the application page in their online funnel. A lot of people are running applications in their funnels but 99% of them are doing it wrong.
You NEED to include a qualifying question like "Do you have the financial resources to invest?".
Then, in the backend of your application or form builder, you need to set up the conditional logic so that when someone answers the question in a favorable way, they are sent to Thank You Page 1, and when someone answers in an unfavorable way, they are sent to Thank you Page 2. 
This allows you to do a couple of things: 
You can send qualified leads to book calls and you can send unqualified leads to a down-sell.

You can pixel the qualified leads page and leave the pixel code off of the unqualified leads page.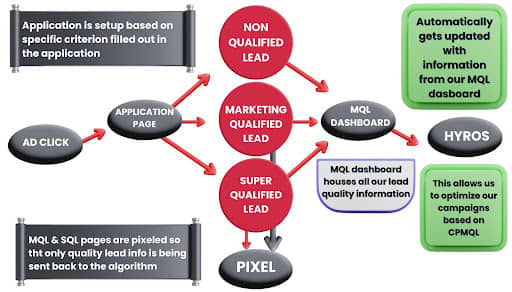 Qualified Lead System Brought In 9,950 Qualified Bookings
This system allowed us to bring in 9,950 qualified booked calls for Douglas in Quarter 3 & Quarter 4 of 2022!
Can you imagine what 9,950 qualified booked calls would do for you and your business?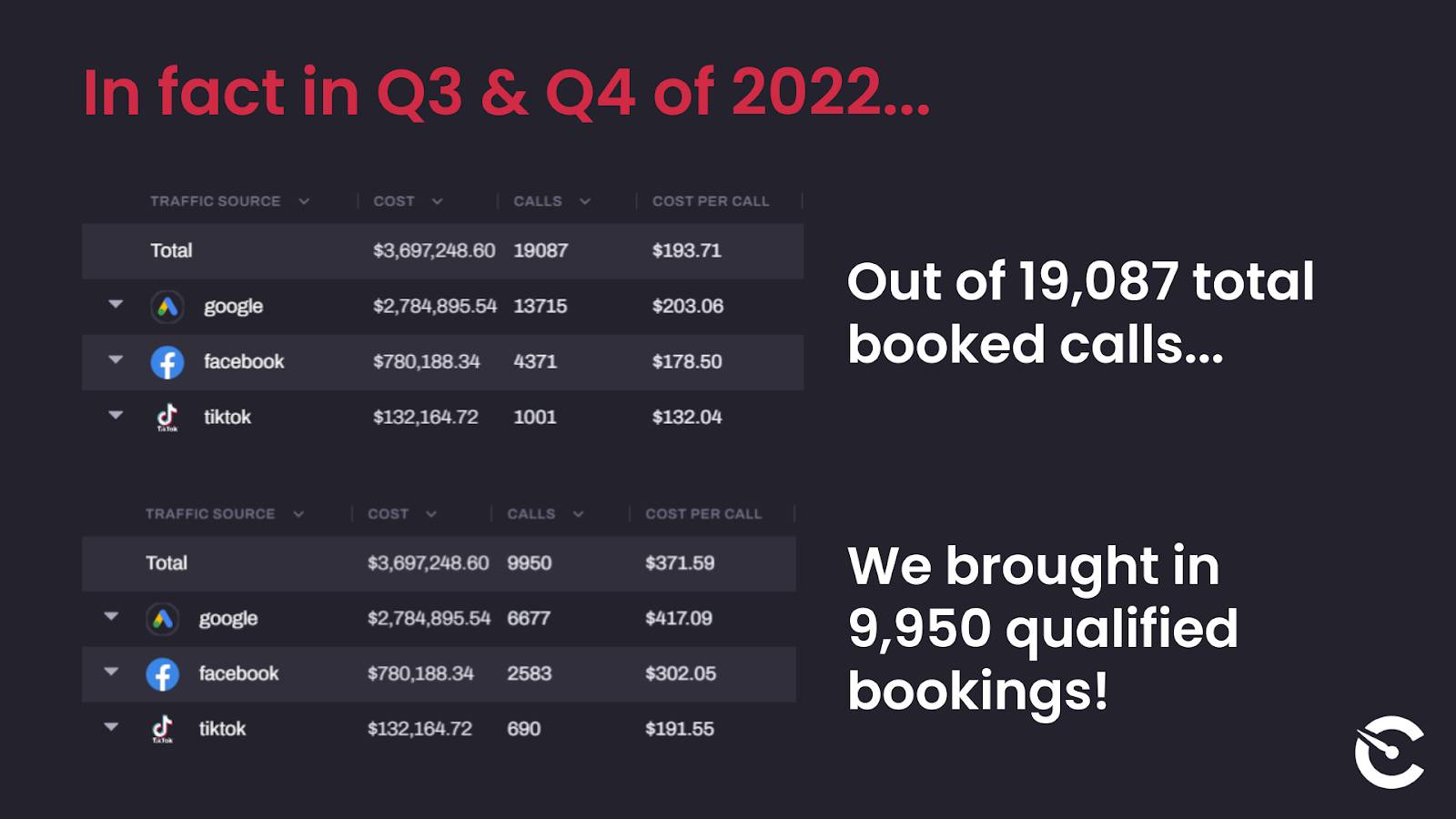 TikTok Ads
We are also seeing some really great things happening over on TikTok. If you don't know by now, TikTok is basically the new Facebook in 2012. 
The CPMs are cheap which impacts every other metric including how much your qualified bookings are! 
Breaking The Common Misconception
Most people don't think that there are people ready to buy a high-ticket program on TikTok because it's all 'young' people.
The graphic above clearly shows 690 'qualified' booked calls from TikTok for $191.55, which is 36.6% cheaper than Facebook and 54.1% cheaper than Google! 
TikTok Auto-Fatiguing Feature
The reason that TikTok is last on the list is that it's much more difficult to get good results.
TikTok has an auto-fatiguing creative feature that automatically fatigues your ad over a period of 2-3 weeks in order to get you posting more content. 
Fatigue Proof Ad Formula
Luckily for you, however, we've discovered a formula that has allowed our TikTok creatives to last much longer and even perform better. 
Here's what we've discovered works the best and for the longest time using TikTok ads:
Short, punchy one liners 

Transitions every 5-10 seconds 

Hormozi-styled captions

High energy with lots of non-verbal, including enhanced facial expressions and hand gestures as well as increasing the normal volume of your voice. 
The more 'native' to the platform your ad is and the less it seems like an ad, the better it does is a general principle here
Fatigue Proof Ads Lasted 1,200.8% Longer Than Average
Here are the results of 4 ads that followed the exact principles which we've been running for over 8 months.
This is 1,200.8% longer than the average time a creative lasts on TikTok.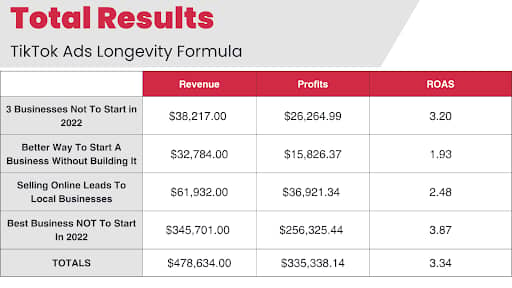 How to Find Coaching Leads: 3 Steps to Promote an Irresistible Offer
Step #1: Setup Hyros
In order to have any success with paid advertising, you'll need to work around the reporting issues with the traditional tracking solutions offered by Facebook, Google, and TikTok.
Hyros Is The Best Tracking Solution For Your Coaching Business
The hands-down best solution we've found for this after spending over $150M on ads is without a doubt, Hyros. 
Hyros offers the greatest product we've ever seen for ad reporting and solves the simple problem of not being able to tie back your sales to the ads they are coming from.
With the hyper-clarity that Hyros offers, you'll be able to easily make decisions about where to spend your ad budget.
Step #2: Implement Lead Qualification Process
We highly advise all of our clients and people we talk with to implement a lead qualification process in their funnel as well. 
Optimize Your Sales Calendar For Highly Qualified Prospects
You need to be setting up systems and processes which will allow you to optimize your sales calendars for highly qualified leads.
The more highly qualified leads you talk to, the better chance you'll have of closing them, the happier your salespeople are, the more good data you're sending back to your ad platforms, and the better your ads perform!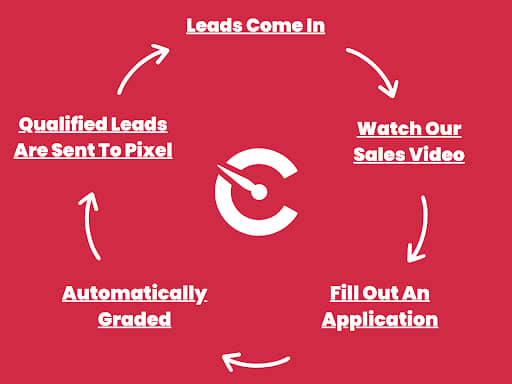 Step #3: Start Running & Scaling Paid Ads
By implementing Step 1 and Step 2, you're already miles ahead of your competitors; if you implement the ad strategies we discussed well, you're a marathon ahead of them.
Predictability & Scalability
The main reason you should put your attention towards paid advertising for your business is because it's predictable and it's scaleable. 
Without predictability, you don't know when your next client is going to close or where they are going to come from.
Without scalability, you'll always remain the same size and will struggle to grow your business.
How to Generate Coaching Leads in Every Coaching Niche
Massive business growth and lead generation for coaches is possible, but it's important to understand your audience, do your research on your niche, and be clear on what you offer. 
Burnout Niche
If you're looking at running an offer that helps people avoid burnout, then Facebook is the best place to start. 
High-Quality Leads From Facebook
We've seen 50-60% lead quality coming from running interests such as female entrepreneurs like Brene Brown.
The cost per lead and cost per booked call is also very good relative to Google. 
Implementing the lead quality process is going to be huge for you because A LOT of employees in today's hustle culture are dealing with burnout. 
In order to optimize your campaigns for people who have the financial resources to invest in your program, you'll need to follow the steps laid out in this article.
If you don't, then you'll likely face the most common issue we see across all coaches which is suffering from poor lead quality.
Business Opportunity
We have a bunch of clients right now in the business opportunity space who are crushing it. The #1 recommendation we have right now is to run contrarian angles with your advertisements. 
Running Contrarian Ads For High Conversion Rates
Do a little research on your target market to figure out what money-making options they are exploring, whether it be Amazon FBA, Real Estate, Writing Blogs, Freelancing, etc.
Then put together an ad angle that is based on your research which starts with a hook saying something like "This brand new system made Jonny a $60k/month business and no, it's not what you're thinking. 
This isn't real estate, Amazon FBA, dropshipping, or writing blogs that no one cares about."
After that, follow some of the principles laid out above and scratch the surface of what makes your offer unique.
Health & Wellness
Our client Dr. Cole is absolutely nailing it in the Health & Wellness space right now. He is often boasting a ROAS of 5X or higher.

It's safe to say that in this post-COVID world that people are really starting to prioritize their health and are willing to pay the big bucks to do so.
Pain Point Ads To Crush It In Health & Wellness
Right now the ads that are crushing it in the Health and Wellness space focus on hitting the target market's specific pain points that they are struggling with.
These are true bleeding-neck problems that people are looking to get fixed. 
So empathizing with their pain, acknowledging their frustration with all the past solutions they've tried that haven't worked, and showing them proof that you've helped your clients get the results they are looking for will surely lead them to your sales calls.
Bonus Tip: Scale Your Ads to Generate Coaching Leads
Most of the business owners we talk to everyday don't have the time or the capacity to implement all of the strategies we've discussed in this article. 
If they do and start crushing it, then it's only a matter of time before they will get consumed by their operations.
In order to scale your ads and do it right, we highly recommend working with professionals to help you get this part of your business running on all cylinders. 
Install A Marketing Department To Supercharge Your Business At A Fraction Of The Cost
We are more than just an agency.
When you work with us, it's like installing a supercharger into your business. 
You'll basically get an entire marketing department including a Senior Ads Specialist, Junior Ads Specialist, Success Manager, Business Intelligence Analyst, and a Project Manager (which in itself would cost up to $350k-$500k or more per year) for a slim fraction of the cost.
Let Us Transform Your Ads to Find the Right Coaching Leads
Lead generation for coaches shouldn't have to be a struggle. 
You should be able to put more dollars in your pocket and make the most out of your ad spend.
And if you wanna know how we could help you set up this process for your business
Including scripting all of your ads…
Putting together all of your videos…
And you want pretty much everything done for you by a high-class team of experts…
Click here to book a Strategy Session with our team of experts to deep dive into your marketing strategy. 
We'll provide you with clear action steps you can take to generate more leads and scale your ads!!