Discover the untold secrets of TikTok ads and how to create compelling creative that generates massive revenue. Ad creatives are important to grab your audience's attention and capture their interest; however, the biggest challenge most advertisers face is creative fatigue.
The rapid content consumption on TikTok makes it difficult for ads to perform for a longer duration of time, leading to a decrease in click-through rates and an increase in front-end costs per click. 
To make TikTok work profitably, businesses must either produce a large number of creatives every month or figure out how to make the creatives last longer. We will explore the latter option, focusing on the top four TikTok ad creative styles that businesses can use.
There are three primary ways businesses can come up with high-converting ad ideas easily using the TikTok Creative Center, user feedback, and mass-producing creatives with different angles and hooks for each angle. (Keep reading to see exactly how we do it).
Additionally, we are giving away our four strategies businesses can use to mass-produce TikTok creatives and effectively deal with creative fatigue. 
Read on to make your TikTok ads sustainable, leading to higher click-through rates and a better return on investment.
REVEALED: Our Top Four TikTok Ad Creative Styles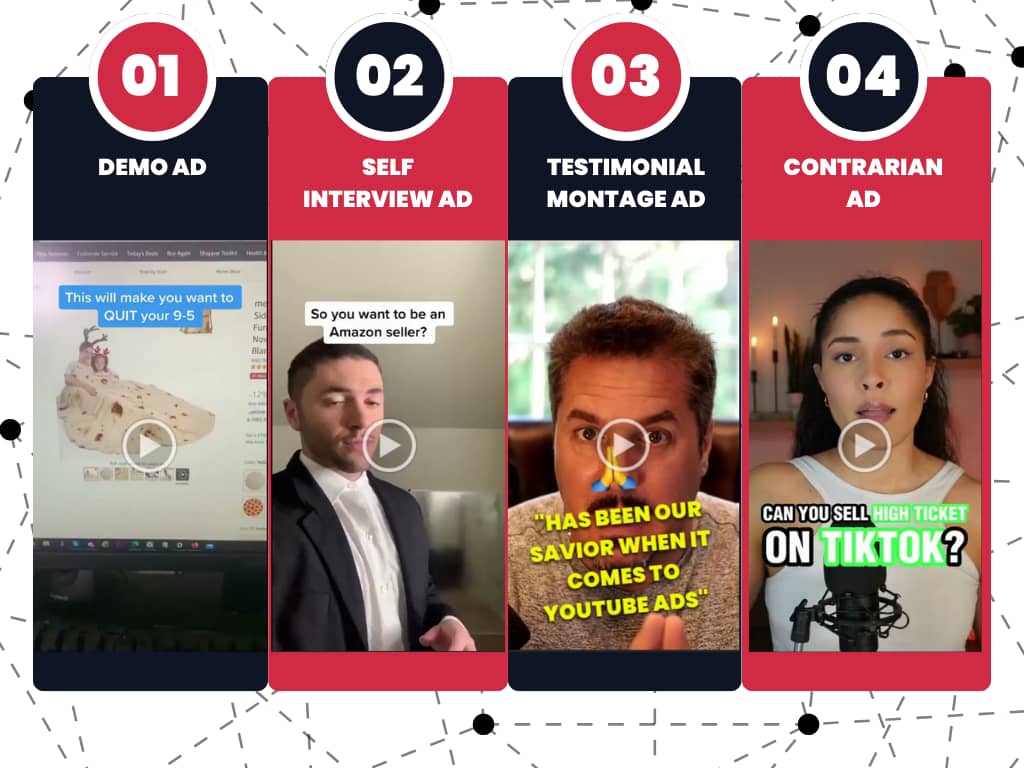 Your creative strategy is going to make or break your performance on TikTok. It is a unique platform that requires much more effort than Facebook or YouTube.
One of the biggest issues that advertisers are facing on TikTok is easily the creative fatigue.
One study from Wallaroo media shows that users spend on average 95 minutes per day…

That's a whopping 95+ pieces of content every day. (making my head spin just thinking about it)
So what does this mean for advertisers?
TikTok is built for users to consume quick 15-60 second clips rapidly. Similar to the native content, ads tend to perform only for a short duration of time and then die off quickly.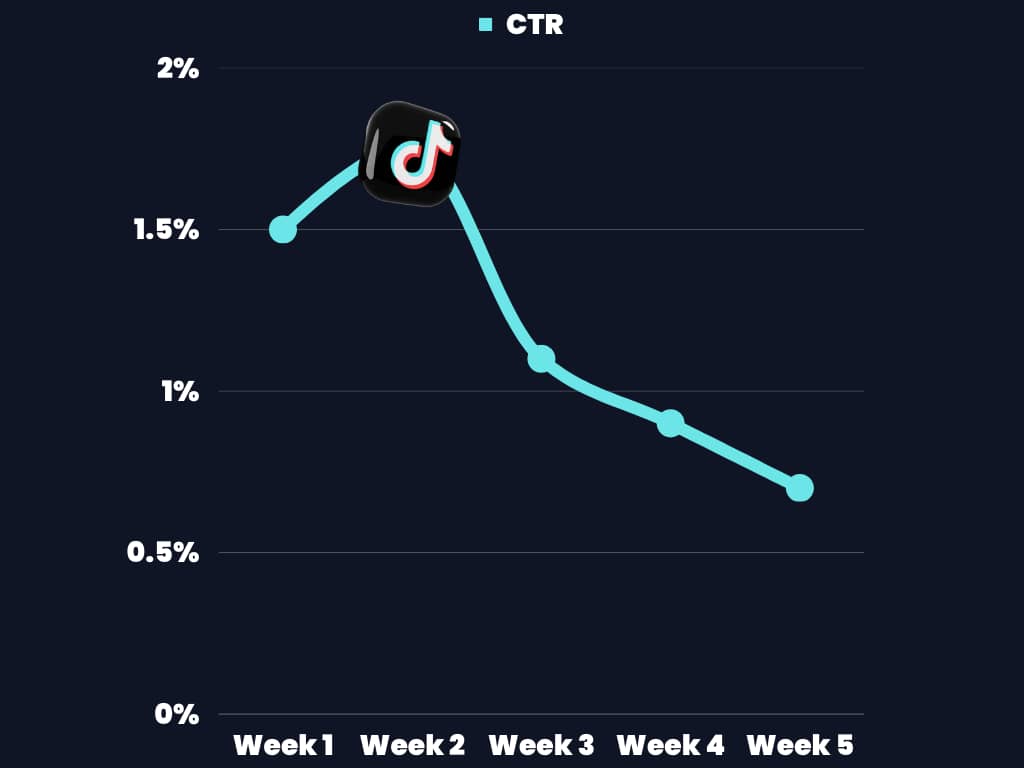 Ultimately causing the CTR's to decrease and the front end CPC's to increase making the ads unsustainable.
This gives us only a couple of options for making TikTok work profitably.
Produce a ton of creatives every single month

Figure out a way to make the creatives last longer
Since there's only a small percentage of businesses in the world who can afford to spend their day dancing in front of their camera…
We're going to explore what we have found pursuing option 2 today.
Here are the top four TikTok Ad Creative Styles
Amazon FBA – Demonstration Ad
Performer demonstrates their product and visually shows what their offer is about
Click-Through Rate: 1.77%
Cost Per Lead: $4.65
Cost Per Booked Call: $121.73
Cost Per Click: $1.46
Cost Per 1,000 Impressions: $15.93
ROAS: 3.1
Amazon FBA – Self Interview Ad
Performer has a conversation with themselves asking objection handling and frequently asked questions
Click-Through Rate: 2.41%
Cost Per Lead: $1.25
Cost Per Booked Call: $248.62
Cost Per Click: $1.07
Cost Per 1,000 Impressions: $19.58
ROAS: 2.45
B2B – Testimonial Montage
An epic montage of all of your best testimonials
Click-Through Rate: 0.71%
Cost Per Booked Call: $46.91  
Cost Per Click: $5.32
Cost Per 1,000 Impressions: $37.57
ROAS: 4.6
B2B – Contrarian Ad
Performer hooks the audience with a controversial statement in the beginning of the ad
Click-Through Rate: 0.64%
Cost Per Booked Call: $190.48  
Cost Per Click: $6.31
Cost Per 1,000 Impressions: $41.20
ROAS: 1.77
How We Come Up With High Converting Ad Ideas That Draw In Customers Like Bees To Honey
There are three primary ways we come up with good ideas easily by using the tools and data we have, including the TikTok Creative Center, User Feedback, and then mass producing creatives with different angles and different hooks for each angle. Let's talk about each one.
TikTok Creative Center
Use the top four styles to get started. The creative center is a great place to grab inspiration from. You can look at the top ads in whatever niche you want. Check it out here.
User Feedback
Once you get your ads rolling, you'll start getting comments. It's sort of like the Wild-Wild West in the TIkTok comment section so only use this method if you have thick skin. Amidst all the negativity you can find questions or objections from users in your market. Use these comments to get ideas for different ads you can create. 
How To Mass Produce TikTok Creatives
Use the methods we've discussed to come up with five different ad angles. Then, come up with three hooks for each angle. 
The hook is a short 3 second attention grabber that you would add to the start of any ad. For example, this one opens up the ad with 'Warning' and sirens going off.
This method allows you to have 15 different ads to test, with way less work. The more creatives you have, the better chance you'll have at finding a winner!
Now that you have all of your ideas and ads ready to go, it's time to make them indefatigable—which is exactly what I discuss in the next section. 
Four Strategies We Use To Mass Produce TikTok Creatives & Deal With Creative Fatigue
Creative fatigue is one of the biggest and most common problems for TikTok ads. Mass producing the creatives is the way we overcome this issue. Here are four ways to do it…
How To Perform The Ad Script
Bring energy.

The energy you bring to the table when recording your footage will make or break your TikTok ad. You need to perform them on 12/10. Be expressive, vocal, and move your body to keep users engaged.

Shift your angles. This is especially important for visually stimulating users. You can incorporate this very simply into your videos by using selfie mode on your phone. Just say one line at a time and then rotate (holding your camera steadily).

Mind your setting. As a bonus, try and record yourself in a setting that your target marketing would resonate with. For example, B2B businesses could record at a business event or in a modern business office. Amazon FBA can shoot in a work-from-home office. If Luxury Lifestyle is your goal, then create your videos in a yacht or a nice home.
How To Edit The Footage
Video Length

. Aim for a video length of 30-45 seconds on average. However, ads can be up to 59 seconds or down to 15 seconds, as long as the message effectively encourages viewers to click.
Quick Cuts.

Quick punchy scenes give your ads that native feel. Each scene should be around 5-10 seconds.
Sounds.

Use trending music on TikTok in the background that is easily recognizable.

For example,

everyone knows this sound

…

and this one

.

Include short woosh sounds in between each scene.

Add sound effects when you bring additional graphics onto the scene (for example, a dollar sign could trigger a "cha-ching").
Captions.

TikTok's built-in video editor has made it easy for people to add captions to their videos, a practice that marketers have been doing for years.

The style quickly caught on and has now become a staple of the platform.

As the trend continued to grow, "Hormozi" styled videos became popular in the online marketing space.

These videos featured big bold captions with dynamic highlighting, which eventually became the industry standard.
Native Feel.

When you bring together all of these different components, your ad acquires that sought-after native feel on the TikTok platform.

This native feel is crucial in making your ads successful and helps them to last much longer.

Our experience has shown that creatives with this native feel convert really well, and when you master it, your ads can outperform those that don't have it. 
Battling Creative Fatigue
Creative fatigue can be a real challenge when running TikTok ads, especially if you're managing campaigns over an extended period of time. Here are some tips to help you battle creative fatigue.
Creative Refreshes / Adding New Hooks
Add new start to the video

We added 'Warning' to the interrogation creative we did for Clients On Demand

We're able to boost Click-Through Rate back over the 1% mark for another 2 weeks
Quick & Easy Creative Styles
TikTok Comment Section Questions
You can repurpose content

Find questions in the comments section of one of the ads, then have your content that answers the question be the ad
Music & Objects
Very simple to create 

Using music and objects just like this one
Influencers DFY
Don't have the time to make new ads? Leverage TikTok influencers to create your ads for you

You can easily go on Fiverr and pay $100 – $150 for a few creatives
Harness The Power of TikTok Ads With Client Accelerators
Now you know how to implement our top TikTok creative strategies to put more dollars in your pocket and make the most out of your ad spend.
And if you wanna know how we could help you set up this process for your business
Including scripting all of your ads…
Putting together all of your videos…
And you want pretty much everything done for you by a high-class team of experts…
Then click here to book a Strategy Session with our team of experts to deep dive into your marketing strategy. 
We'll provide you with clear action steps you can take to make your Tik Tok advertising more profitable! Fill out the form here to book your Strategy Session with our Team.